Are all plywoods waterproof? Learn the answer with this blog post.
I've personally tried keeping marine plywood underwater for a week to see whether or not it gets any effects of water. However, it resulted in soaking up water and leaving a bump.
Are plywoods waterproof?
Water can expand individual wood layers in plywood, making it vulnerable to water damage. Although it's not the case with small amounts of water, I'm talking about keeping them in a water solution for a longer period. 
Eventually, you will notice that layers are peeling apart because the glue holding them together couldn't stand up to expansion regardless of the plywood's type and the adhesive's waterproof properties. 
Depending on how much water the plywood is exposed to, this can take years or just a few months.
Why plywoods are not 100% waterproof?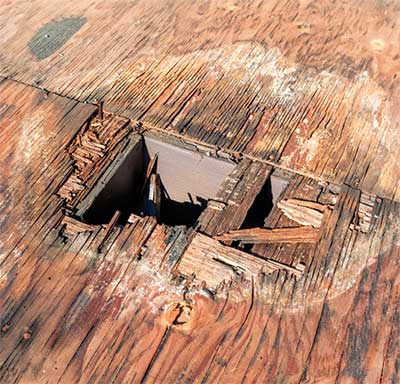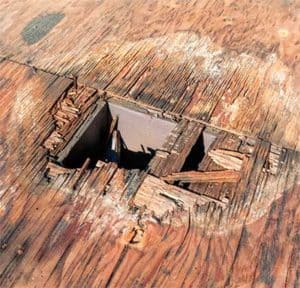 Waterproof plywoods might be a strong board for outdoor/ exterior use. A small amount of water cannot damage them; neither humidity can harm higher-grade plywoods. 
But still, they are not %100 waterproofs. Because of the following properties.
Inherit wood property, soak up water no matter what.

Regardless of how tightly the layers are glued, water can penetrate when exposed to a longer period.

Over time, addesives used during manufacturing plywood tend to get weaker. 

Water on wood can produce mildew or fungus-like things.
How to determine if plywood is waterproof or not?
Follow these steps to check whether or not. That waterproof plywood you just bought would withstand the water.
Make sure the plywood you plan on testing fits inside a cooker by cutting it down to the right size first. Pour enough water into the pressure cooker to cover the plywood in its water for 30 to 40 minutes of heat.
If the plywood comes delaminated then it simply won't withstand the conditions that we should expect it to. If the plywood does not lose its original shape after this process, you can work comfortably, knowing that it is waterproof.
Here is a video tutorial you would find helpful in this regard if you want to test your plywood from the comfort of your home.
How waterproof plywoods are made?
The wood veneers are treated in several ways.
When manufacturing waterproof plywood such as marine grade plywood. Drying wood lumbers is necessary by keeping them under high temperatures and pressure.

Ensuring that, all the wood veneers are completely dried and all the moisture is squeezed out.

And the size of veneers is kept thin compared to regular plywood, just to join them together as close as possible when pressed. Prior to final cuts, chemicals such as urea-formaldehyde are used to treat wood plies.
Regular plywoods vs waterproof plywoods?
| | | |
| --- | --- | --- |
| Difference | Regular plywood | Waterproof plywoods |
| Uses | Regular plywoods have as many uses as wood can have, for furnishings, flooring, both indoor or outdoor. | Waterproof plywoods, such as BWP are mostly used for making boats or their part, as well as used where the moisture is the concern. |
| Manufactration  | Thick wood veneers are used in regular plywoods.  | Mostly, thin wood veneers are used in waterproof plywoods. |
| Wood used | Softwoods such as pine are mostly used for manufacturing regular plywoods. | Hardwoods are mostly used in manufacturing, because they are less prone to get damaged from water, without needing any sealer as well. |
| Adhesives | Normally simple adhesive is used to bond veneers to get regular plywood.  | Adhesives used in the process should be water-resistant or at least able to stand against mildew. |
Side effects of water on plywoods.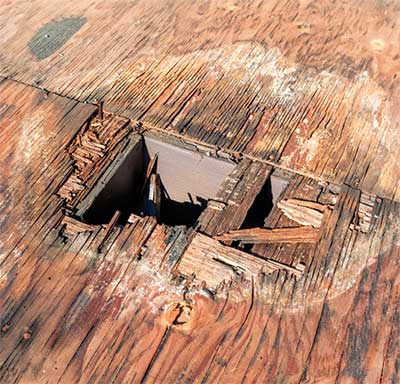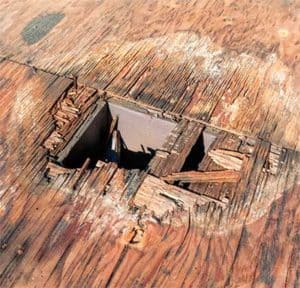 Other than splitting, wet plywood can also rot and warp. 
Moisture poisons the wood so completely that it is unable to carry any weight. In simple terms, if your kitchen cabinets (made of plywoods) get any damage from water, they will be unable to support heavy objects.
Plywood bends into a curved shape that looks awful and cannot be used for building applications. 
Generally speaking, this can occur where screws/nails are used on plywood, and the sheet begins to lose its strength from the respective fronts. The result is that the wood is no longer held tightly to the nail. 
Can you waterproof regular plywood? 6 Ways
Plywoods can be sealed as woods, using types of sealers their upper surface can be coated with something water-resistant material.
You can make regular plywood waterproof by using the sealers listed below.
Use an epoxy sealer to achieve faster sealing. Besides making plywood resistant to water to hold on moisturized weather, this one adds a thick coat to prevent scratches on the surface and minimize the risk of taking damage from the sunlight, best for exterior use. The best part of epoxy sealers is the ability to hold a paint coat on the surface, all you need for that is a bit of sanding the surface.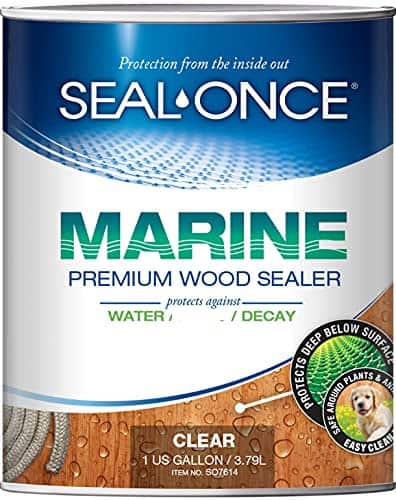 Even marine plywood can be damaged by water if it is being used for exterior applications where moisture is an issue. To take the ability to resist water to the next level, dring oil sealers would be the best bet for you. Though they work differently from epoxy sealers as their applied coats are thin and give a glossy appearance. The best thing about this drying oil sealer is that the formula will not just resist water but minimize the negative effects of water damage, too.
The easiest and probably the cheapest way to make regular plywood resists water. You can use this waterproofer product to add a sealing coat. Well, the end results would not last as long as epoxy or drying sealers would. Yet, it will not crack or peel easily, but you will notice little faults like these over time.
Wood materials become water-resistant when they are sealed with a coat of varnish. This goes the same for plywoods as they can be treated with varnish in a similar way as wood does. By varnishing, you will not only get your furnishings waterproof but also get the appealing glossary natural look, which will make them stand out. This is an added advantage for people who want to avoid having a thick layer instead a thin coat pleases them. Since it penetrates through the grains of wood to protect them from underneath.
The varnish is an excellent sealer for the upper parts of wooden boats or the top portions of your dock, where water is touched on a surface. This means, unless your furniture is flooded with water, problems like salt, mildew, and moisture will not harm it. That's what makes it super great for outdoor use.
One of the easiest methods for waterproofing plywood is with liquid latex: just spray it on and let it dry. Almost anywhere you spray it on, it works. With proper care, it will last for decades, worry-free from water deterioration.
When the latex is not sprayed well, it will leave gaps that will allow water to seep into the plywood, and all your effort will be wasted! In other words, if you decide on liquid latex, make sure you spray the plywood extensively before you apply it!
This is not a sealer yet can provide similar results. It requires some preparation before applying since it is not going to seep into wood grains. Instead, it will only give your furnishings a top-thick coat, which will resemble similar to adding a thin plastic coat.
If you want to seal plywood with PVA, you should dilute it with water so that it goes on thinner and soaks into the wood before it dries.
How to Waterproof Plywood?
The process of waterproofing plywood is not a very difficult thing. Following the right steps, you will get the job done easily and in no time. The steps I'm going to mention below will also help you to achieve the maximum good results.
Step 1: Prepare the surface thoroughly
Before you apply any sealer, the most important thing is to check whether or not you've prepared the surface thoroughly. This will include, cleaning of any dust, and making sure that are no bumps and dumps on the surface, lastly, you would need to lightly sand the surface. Using a 40 grit sand coarse.
Step.2 Wear protective gears
Wearing protective gear is necessary regardless of the sealer you're going to apply. As most of them emit a great deal of poisonous gas, which may damage your eyes, skin, as well as internal organs when they are inhaled for prolonged periods.
Step 3: Apply the Sealer
Depending on the applicator, sealers are applied differently. You can use a brush, a roller, or sometimes for a larger surface, a sprayer gun would be the best choice.
Sometimes two coats do just fine, however, the number can exceed three or four depending upon the surface. Allow one coat to dry completely before applying another to get a smooth surface, otherwise, brush marks will be noticeable.
If you use a sprayer to apply sealer it would be best to read the manual to understand how much the product should be applied in one go.
As a whole, you should remember the following things: Don't use too little sealer, which wouldn't completely cover the surface, and don't use too much, which will cause poor results.
Step 4: Let it Dry
The plywood should be allowed to dry for at least a few hours, or for as long as you can spare. It is then ready to be installed once it is completely dry. Apply a thin layer of sealer over the screws/nails before and after installation of the plywood to ensure it will remain water-tight!