Indeed, we all want to simplify our woodworking journey. Either by making or jigs that help us do repetitive, work easier. Or these cheap woodworking tools under fifty dollars are to help you in your woodworking journey. 
A good choice if you want to give a woodworking tool to someone you know is obsessed with woodworking.
List of 9 cheap woodworking tools under $50, that beginners or experts both can benefit from.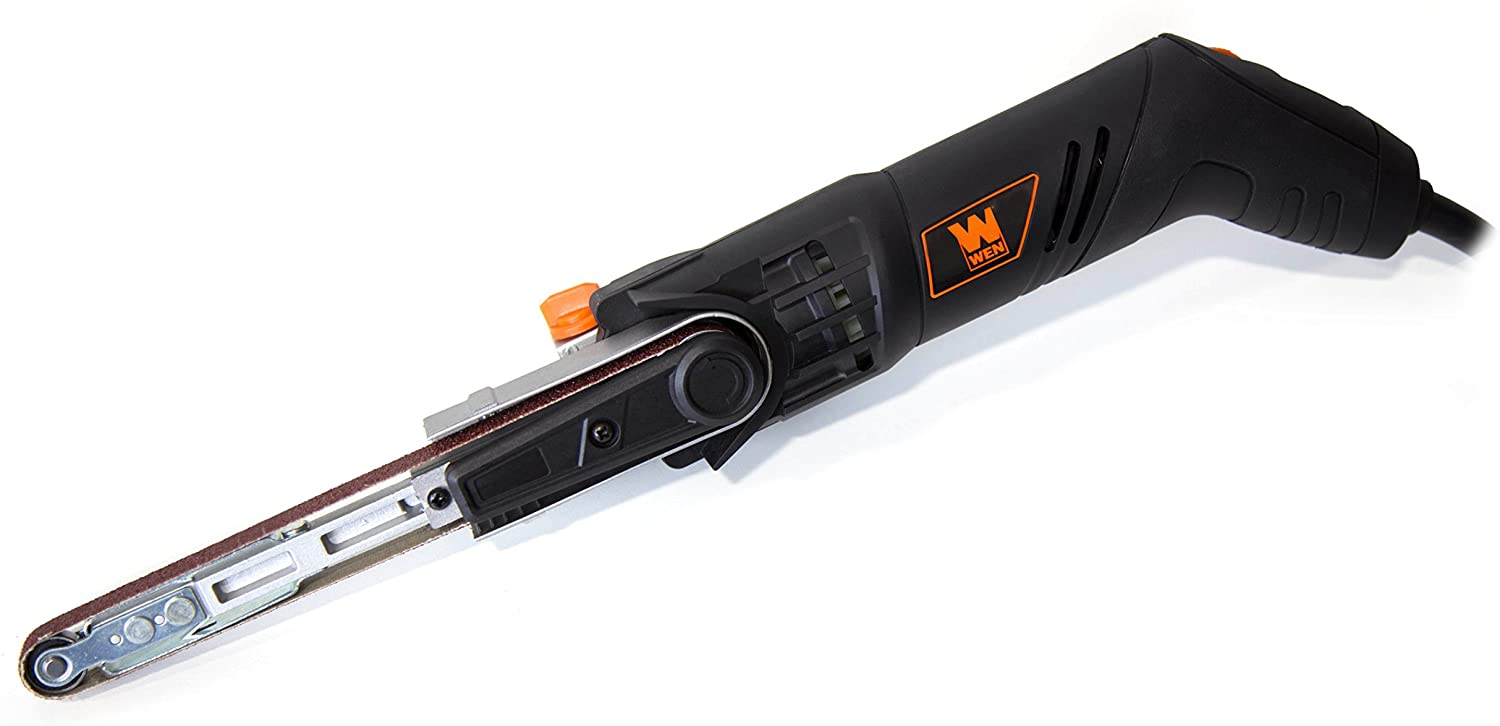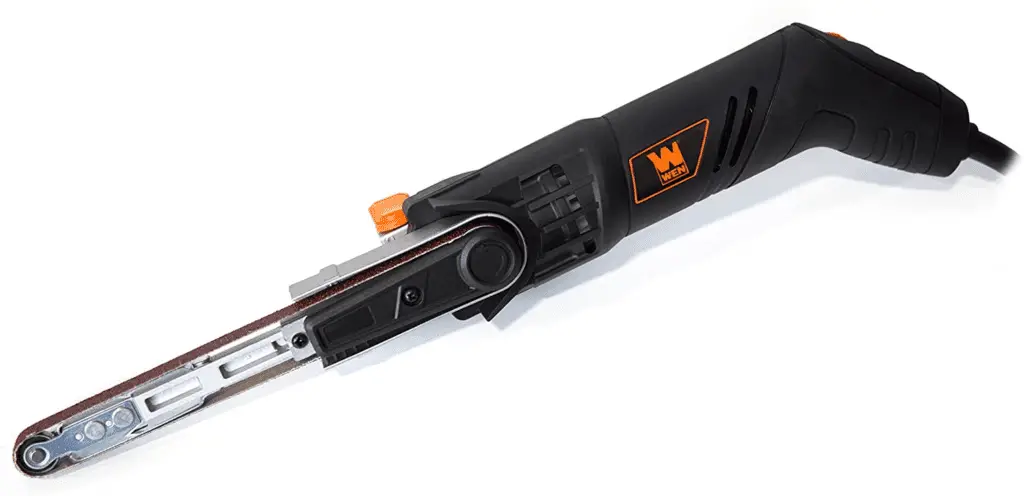 Sanders are great tools in woodworking. Standard ones are belt sander or orbital sanders that we've already discussed in this blog post. Difference between belt sander vs orbital sander. You can check them out.
So this one right here under $50 tool is a sort of sander- for more precise sanding, edging, comes in at $40 on Amazon.
Probably one of the handiest tools to have around a woodshop. originally this was designed for welding and lots of welders have air-powered ones. 
It's just amazing how often there's a situation in woodworking where you can clean up, fix a mess, and edge all kinds of little places that you can make use of. 
You can tighten the little knob on the top for more precise sanding. You can loosen it up and adjust it to different angles for different comforts or different grips. if your sanding is in an unusual position.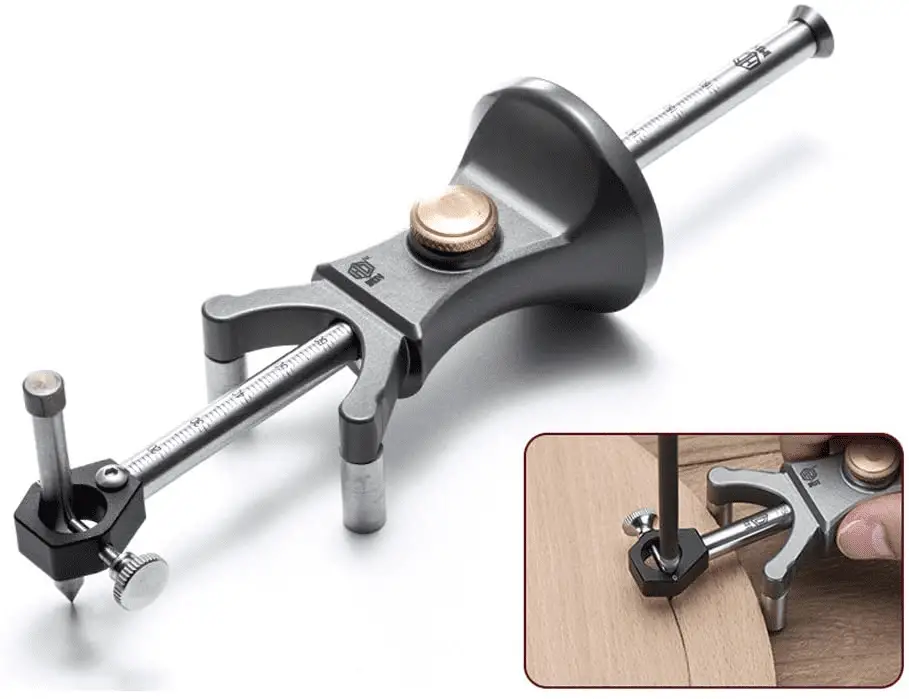 so next up we're going to be looking at this unique tool, this is a scribe.
 Those of you who have cut box joints or dovetails know what scribes are, the tool comes in handy in woodworking. They have a cutting edge on one side and a flat surface on the other side so you can set a depth.
Install a pencil in it, now you can also place the cutting edge on this side as well.
 What this tool does is allow you to mark out around contours. 
The two pins make it easy to follow that contour very accurately and to do inside and outside contouring with great precision instead of struggling through. If you need to set a depth from a contoured piece, you can do whatever depth you need.
Once again, this is one of those unique tools that gets used quite often in the shop, so I just ordered a new one since I haven't had one in a while and couldn't find the other. I believe it comes in at under $30 on Amazon.
 If you do any precision woodworking, you should absolutely check this out because there are a lot of times when you need to mark out contours where this comes in very handy.
An added advantage of this tool is. There is an adjustable hole here for pencils of different sizes so that you can use different sized pencils, sharpies, or markers.


The following tool is called a MK 2, a divider gauge that divides spaces evenly between screws or nails. You get even marks between this as it opens up. Undoubtedly the spacing between screws is one of the time-consuming, and boring things we often have to do. This is what you can simplify with this handy tool that comes under 50 bucks.
The Amazon version of this is available and I believe Claim Support also sells this, and they're not super expensive. However, when it comes to doing quick division, the divisible layout is helpful when you are marking your screw holes or the pins in your coat rack.
So if you frequently have to insert screws in your woodworking project, use this one. I use this quite often as I like the screw holes to line up really well, so I took it out of the box.
This way I don't have to get out my tape measure or do any math or I don't get into a situation where I might get one of the measurements wrong.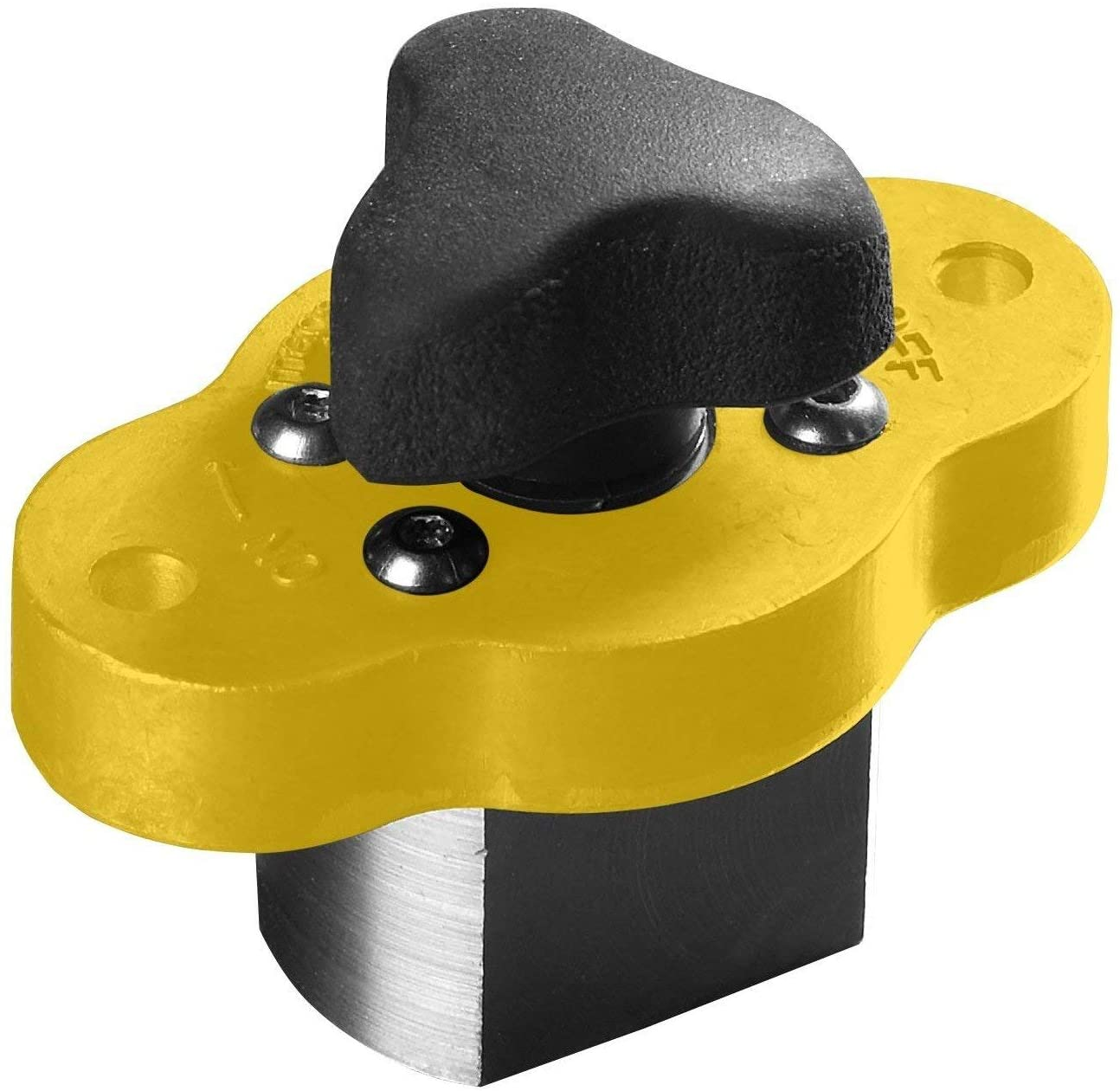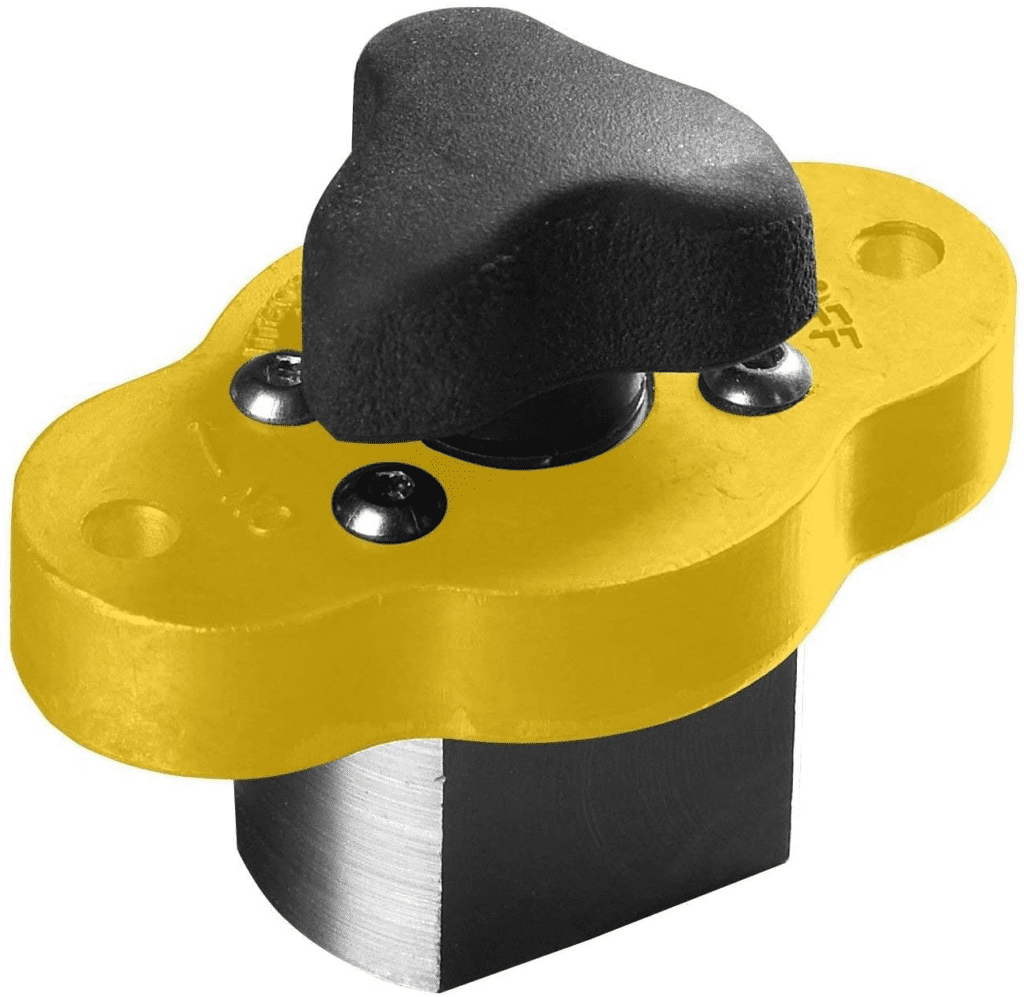 Next up is made by a mag switch, and it doesn't look cool or something. But it's handy in various ways.
What does this tool do, as the name contains the magnet word in it? It's just a mag switch magnet simply means, you can turn the knob that turns the magnetic force on.
Pressing that button somewhere on its small body. A magnetic force can be activated, which is for placing it onto a metal surface. It acts as a stopper like you can place on your table saw, using it as support for the board you're cutting. It's a pretty powerful magnet, and definitely can support bigger boards. 
There are several ways we can talk about this as it can be used to hold down feather boards, for holding down fixtures and jigs on the drill press, and for stopping points, which is how I use it.
My table saw is not used as a fence. Instead, I use it as a depth gauge or to stop, rather than trying to use the fence, which could possibly lead to materials binding in the fence and being tossed back at me. As far as the drill press is concerned, I use it to mark distances or hold down fixtures quite often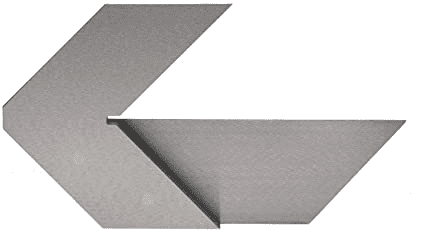 Just by looking at it most of you can tell what this tool is all about. It's a center finding gauge but it has lots of other unique uses as well.
So this tool is a great cheap tool for making sure things are square.
It's also nice for using as a regular square you can hold it up against the board and we use it to mark it out, mark out a line, or a touch there.
On the end of a board, you can use it for marking out different angles as well, and it's got a nice weight to it so it makes a handy paper holder too.
So it's one of those things that's just really unique. I use it a lot and it comes in handy more often than you could think.
 The one I have has an ice scraper edge, so I use it for cleaning glue sometimes, there are just lots of uses for it, and it's small enough and lightweight in order to keep it in a small pouch in your apron, pocket, or tool bag.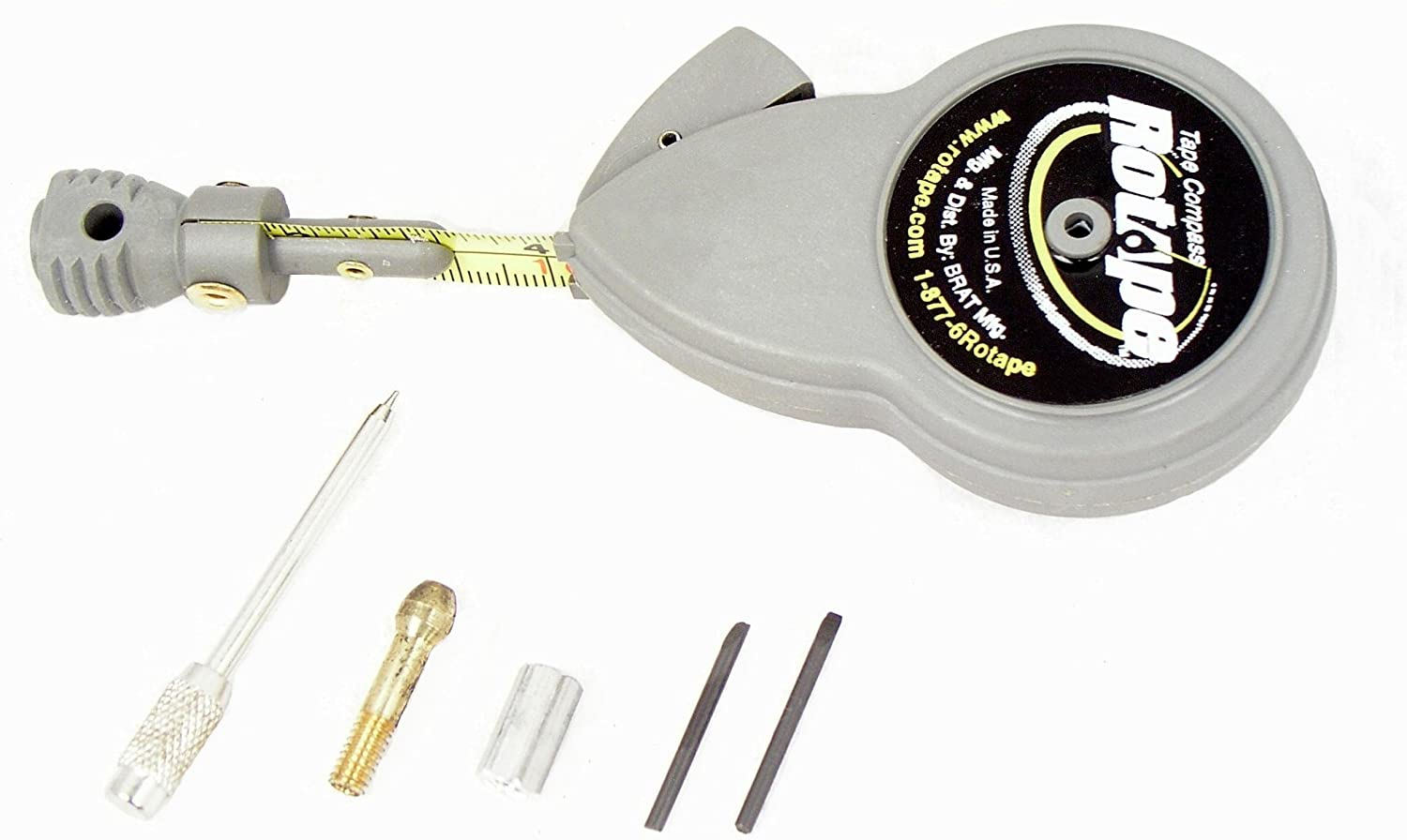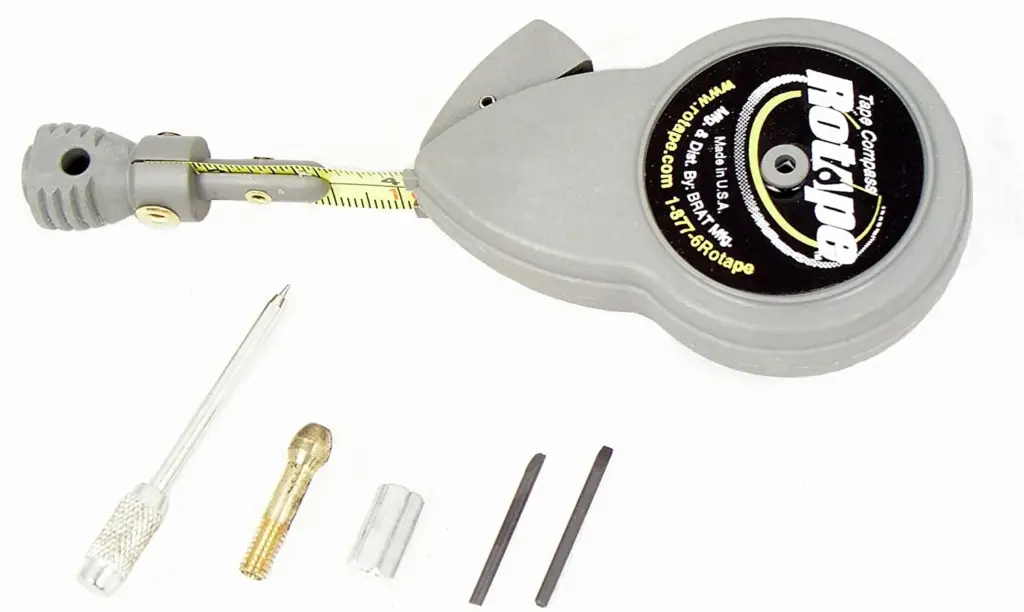 Probably one of the hardest things in woodworking for beginners and experts is to make the right circles or radiuses. A definite thing that never gets easy when you do it manually. 
The following woodworking tool rotape can be a way to go. It makes making a radius so much easier for everyone. The cost of this barely crosses $30 on Amazon.
The device works just like a tape measure. You pull this lever down and then you pull out the desired distance. There is a pin on the bottom that you can pin in a circle and a lead that plugs into the end.
The radius can go up to I think six feet on this particular one, and you just have to mark it out what you need.
It comes in handy, especially when marking a large radius for those of you who do cabinet work or countertop wor. 
However, whether you need this tool or not depends on the kind of woodworking you're doing. If you're doing a lot of radiuses, this saves you a lot of time making jigs.
As for this one, I believe it is also fairly inexpensive as well – don't quote me on that, but I'll check later and post a price here on the fun thing.

Lastly, and this isn't measured part of the cool stuff- With the utility knife you can unscrew the blade and you can pop it out and pop it in and you can do a lot of things with it.
In woodworking, you can use it for small cutting tasks. Although you may already have a big or standard knife for such tasks. But this is too small, definitely will not put much load on your arsenal of woodworking tools. Moreover, its price compared to all tools listed here is fairly cheap. Cost around $15 bucks, according to the current price.
Drill bits with so much importance in woodworking can never be enough for a woodworker. As regardless of the task, drill bits come in handy. One of the great tools to add to your woodworking tool's arsenal. 
To install fasteners, these pieces of metal can be used for drilling holes in a variety of materials.  Among woodworkers, high-speed steel drill bits are the most popular. DeWalt and Milwaukee both sell sets of these bits. You can be sure they won't sit unused in your toolbox.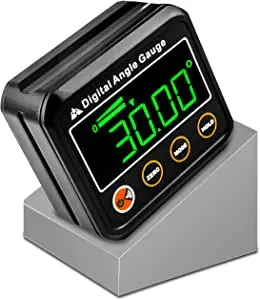 You can find on the market useful Digital angle gages that help find and measure an angle quickly with a certain level of accuracy.
 Because the magnets are built into their bottom, all you need to do is place them over a blade and read the angle on the digital analog.
The back of the tool should be much closer to the blade than the blade itself, no matter which way it tilts. You should always face the screen side forward, while the magnetic bottom side should be faced against the table blade.
It may be easier to find an angle with these kinds of tools, but measurement accuracy is still questionable. Most of these gadgets have an average deviation of 0.2 (+,_).