Whether you are setting up a working space in your car garage, in a small workshop, outbuilding outside your household, or rental space, you need to come up with a layout that will ensure the smooth and swift running of your woodworking projects.
If you are undecided on making and setting up your woodworking shop, then you are in the right place; this piece will give you much-needed insights and tips on the same.
Set Up Enough Working Space
From the initial cut-up to finishing, you need to create a smooth and swift flow of traffic inside your workshop. It would be best if you came up with a flow whereby you will be in a position to move a machine from one position to the other without much hassle.
You need to arrange your woodworking shop in such a way that you will be able to carry on with your projects without any inconvenience or disruption.
If your working shop is small, you could opt to hang some of the tools to create more working space. Ideally, you could make use of the ceiling space.
Ensure your Woodworking Shop has Power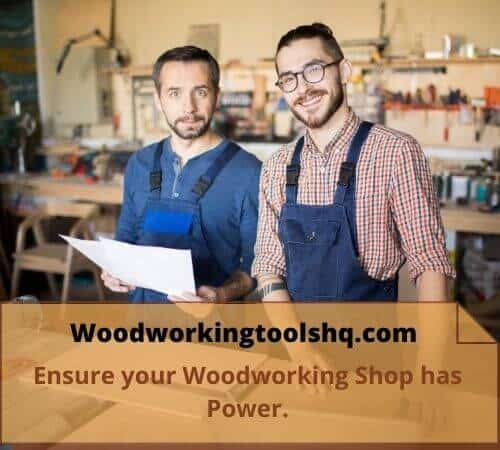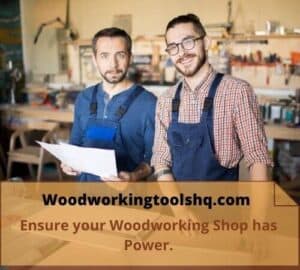 For the smooth running of any woodworking operations, the working area should be well lit; thus, it's vital to fix enough lighting in your woodworking shop. This will also help eliminate any accidents in your workshop as you will observe what you are doing.
To take advantage of the natural light, you could position your work table or bench close to the window.
Apart from lighting, you should also ensure that you fix several power outlets in your woodworking shop. You could opt to fix outlets working at a capacity of both 220 and 110 volts. 
More extensive power tools may require more voltage, while lesser ones will function perfectly with 110 volts.
Additionally, you should ensure that you strategically position the power outlets in your workshop. The outlets should not be placed far away from the machines. 
However, if the power tools are set far away from the outlets, you could use extension cords.
Strategize on Dust Collection
A radial arm saw, jigsaw, table saw, and sandpaper and almost every woodworking tool can produce dust while working with them in your workshop. This may interfere with the airways in your shop and expose your tools to hazardous elements, including rust.
As a result, it's paramount that you put a mechanism for dust extraction in your woodworking shop.
Installation of a dust collection system in your woodworking shop will be an effective remedy to curb the issue of dust. They are designed to collect immense volumes of air. 
Featuring blast gates, they can gather wood chips and waste in your workshop to avert fires, health risks, and safety issues.
Set a Moderately High Ceiling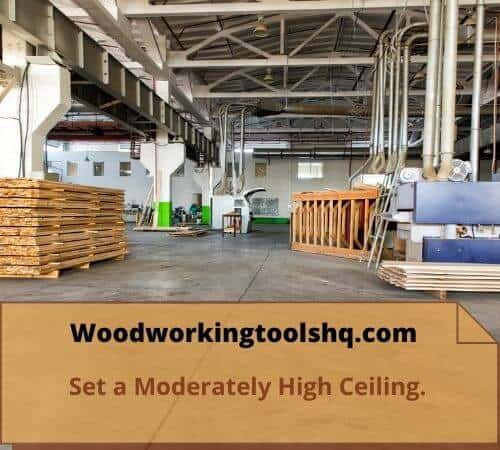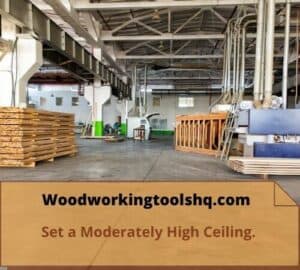 The ceiling should be designed moderately high to efficiently work with varying sizes of woods and boards in your woodworking shop. 
Failure to appropriately design the height of your workshop will make it tricky to undertake various projects, especially those involving larger pieces of lumber and boards.
A moderately high ceiling will also aid in the easy and swift movement of objects in your woodworking shop without any difficulties.
Design a Large and Robust Locking Door
A woodworking shop is used to store equipment and tools of high value; for this reason, it's very critical to design a robust locking door. This will help to eliminate cases of breakages and theft in your workshop. 
A locking door will also prevent curious kids and pets from gaining authorized access into your working station.
Designing a large locking door will aid in the easy loading and offloading of larger pieces of wood and boards for your various projects. It will also be easy to move large equipment and tools into your woodworking shop.
Install Fire Extinguishers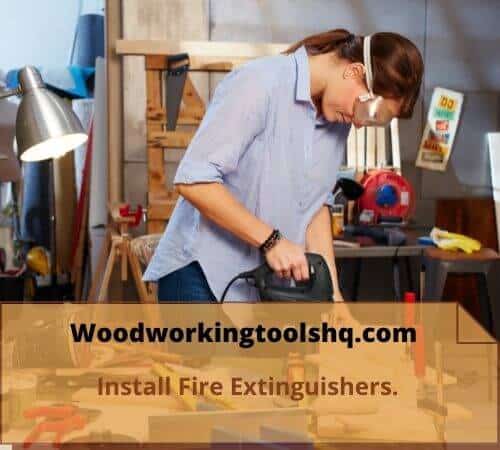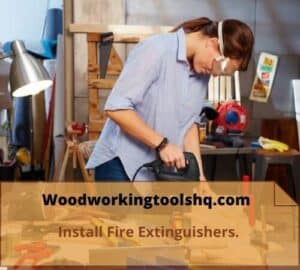 Pieces of wood can easily catch fire and vandalize your workshop and your valuable belongings inside it. For this reason, you should have stand-by fire extinguishers in case of unforeseen accidents. 
Apart from extinguishers, it would be best if you were extra-cautious while working in your workshop to avoid instances that could lead to accidents.
Design a Strong Workbench
When constructing a woodworking shop, it is crucial to design a strong workbench and strategically position it at the center point of your workshop. 
This will help to ensure that heavy and immense workpieces can be worked on without any difficulties. The workbench should not be wobbly or shaky but rather robust enough.
Positioning the workbench at the central position will help ensure that you should have enough space to undertake your various woodworking projects without any hindrances.
Put Appropriate Roofing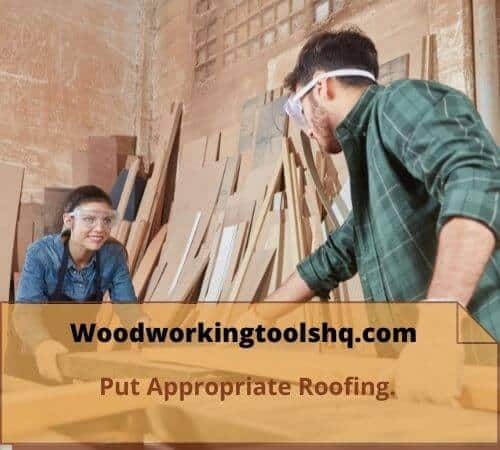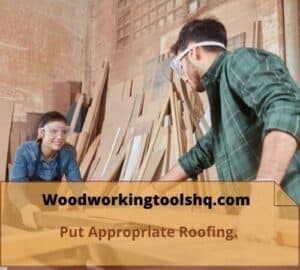 The essence of a woodworking shop is to protect your tools and equipment from elements that could damage them, including rain, dust, heat, and any other disastrous aspects. 
Thus, it's very important that you appropriately roof your workshop using robust roofing materials.
The materials used in constructing a woodworking shop should also be solid and durable, and not prone to vandalism. 
This aspect helps ensure that your workshop cannot be destroyed even in adverse weather conditions together with everything inside it.
Try it out
Changes are inevitable. Even upon completion of your woodworking shop construction, there is always room for modification and changes.
When you start making use of your workshop, you will notice one thing or two that are not appropriate, and this will be the proper time to make modifications to ensure the design fully suits your needs.
You could also take a period to add things that didn't initially include in the construction of your woodworking shop. To reach a point where you are fully satisfied with the design of your workshop, you have to conduct regular modifications of various things in it.
Bottom Line
Your woodworking needs and the space you have will determine the design and make of your woodworking shop. If you don't have the know-how regarding how to go about this, the above tips and guidelines will be of much benefit to you.
Sources: