The term "White paints" for a common person visualizes a coat of white paint. But, that's not true. Multiple factors are out there to take into account even if your ultimate aim is to get a white coat as the end result.
For wood, the finish is one of the most important factors that you should take seriously. It's not about just applying a white colour. It's more than that. 
You should think of how you want to see your end results. Which depends on the finish you choose: glossy, satin, or matte are a few popular finishes in the industry.
Secondly, the type of paint you choose also has a direct relation to what types of paint you pick. From oil-based to water-based, both have their own advantages and disadvantages.
Choosing the right finish for indoor and outdoor furniture.
Finishes are the final look. Understanding them would be easier if you scale them from a paper-like texture to a glossy finish. In between falls many finishes, adjusting the amount of gloss or matte texture that feels better. Expect to pay more per gallon for each notch up the glossiness scale.
So before choosing the right white paint, the terms "finish" will help you make the right decision. Allowing you to visualize the end result.
Suggestion: for wood, the matte-like finishes are not preferable. The reason being here is the dust or stains, which are hard to clean off because of the coarse texture. 
Flat: This paint will serve your wooden project a  flat, least reflective coat; No reflections to lights. Looks amazing as it adds a traditional feel to a place. The only downside to this, not suitable for outside usages, cleaning off the dust is difficult.
Satin: Feels or looks similar to flat texture yet provides a slightly sheen texture. Somewhat reflective to lights, with a coarse-like appeal. One of the popular finishes for wood, opting for it will be a nice decision if you want to stick to a formal flat-like texture but want something that can be cleaned easier.
Semi-gloss: As the name suggests, the finish has the benefits of twos: flat and gloss. In dim lights, it will look like a texture of the flat finish, while areas with more intensity of lights. Expect to have a glossy finish in the essence of lights. 
High-gloss: Finish that is most suited for wooden projects. Kitchen cabinets, tables, and other household furniture are mostly painted with this sort of finish. Easy to clean makes it a top choice. Plus, require low maintenance as these don't welcome dust.
Best white paints for wood
Here are some of the best white paints for wood in different finishes. From matte to a high gloss. We've covered them all.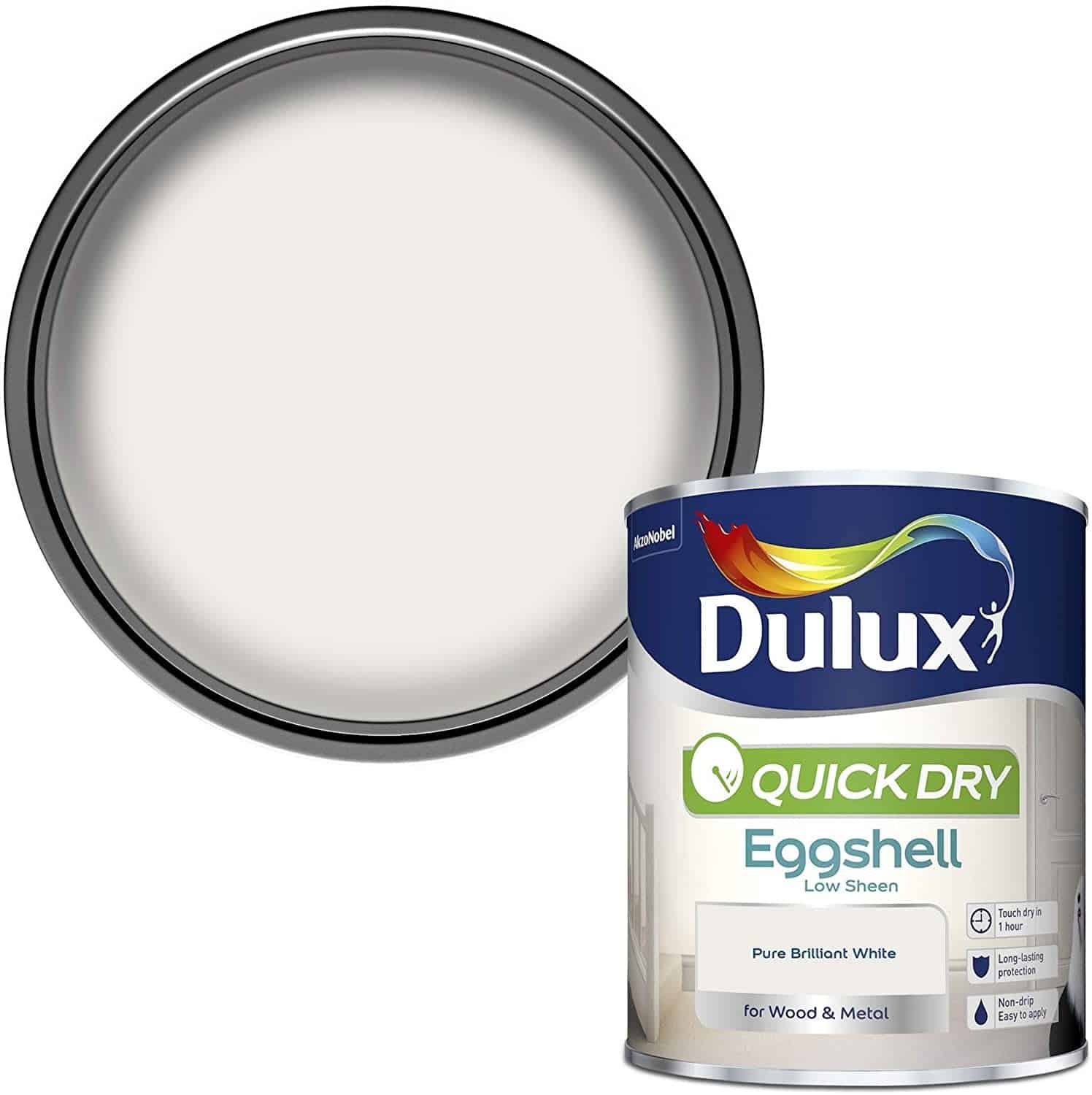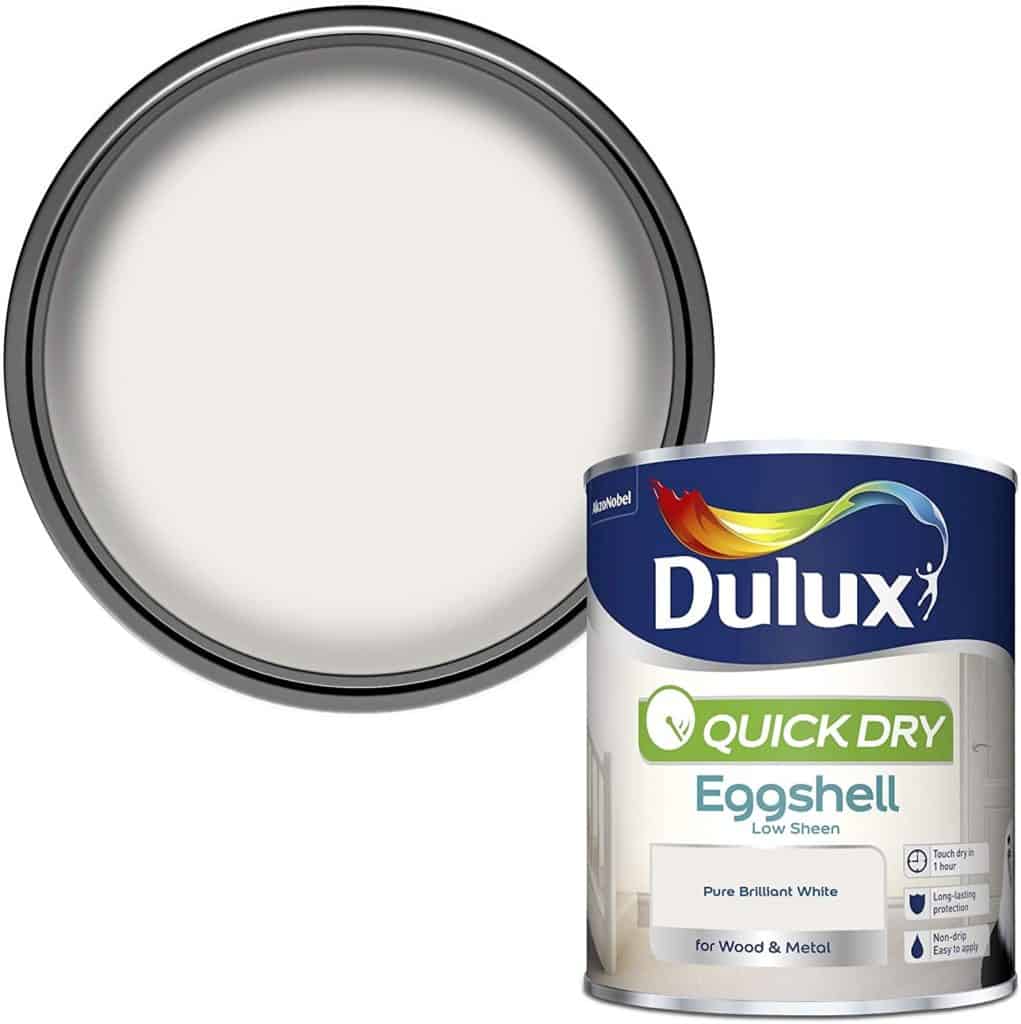 Paint type: Water or latex-based

Suitable for: Wood and metal

Best for painting indoor furnishings.

Coverage: 16m²/L

Touch dry: 1 hour

Second coat: 6 hours

Application: Brush or Roller
If you are going to white paint indoor furniture, such as dining table, bed, shelves, consider this product from Dulux. A noticeably popular brand that provides quality to peace of mind. 
With its fast-drying formula, which only takes an hour to two to dry to the touch. Allows you to finish your painting job quicker than later.
As far as the finish is the concern you got? It's the eggshell finish that you will be getting. Which is slightly glossy but the overall texture will look like a matte.
Based on latex or water, it contains low VOC chemicals so there should not be any concerns about toxicity at all. 
Highly durable for years, easy to clean. In addition to this, its low cost is something that attracts more buyers. 
Pros
This paint dries quickly, making it one of the fastest drying paints on the market

Features durability and is easy to clean

As other cheap or low-quality white paints. It doesn't get yellowish over time

The product has a low odor and very low VOC, making it environmentally friendly
Cons
Only suitable for interior woods.

Not suitable for bathrooms.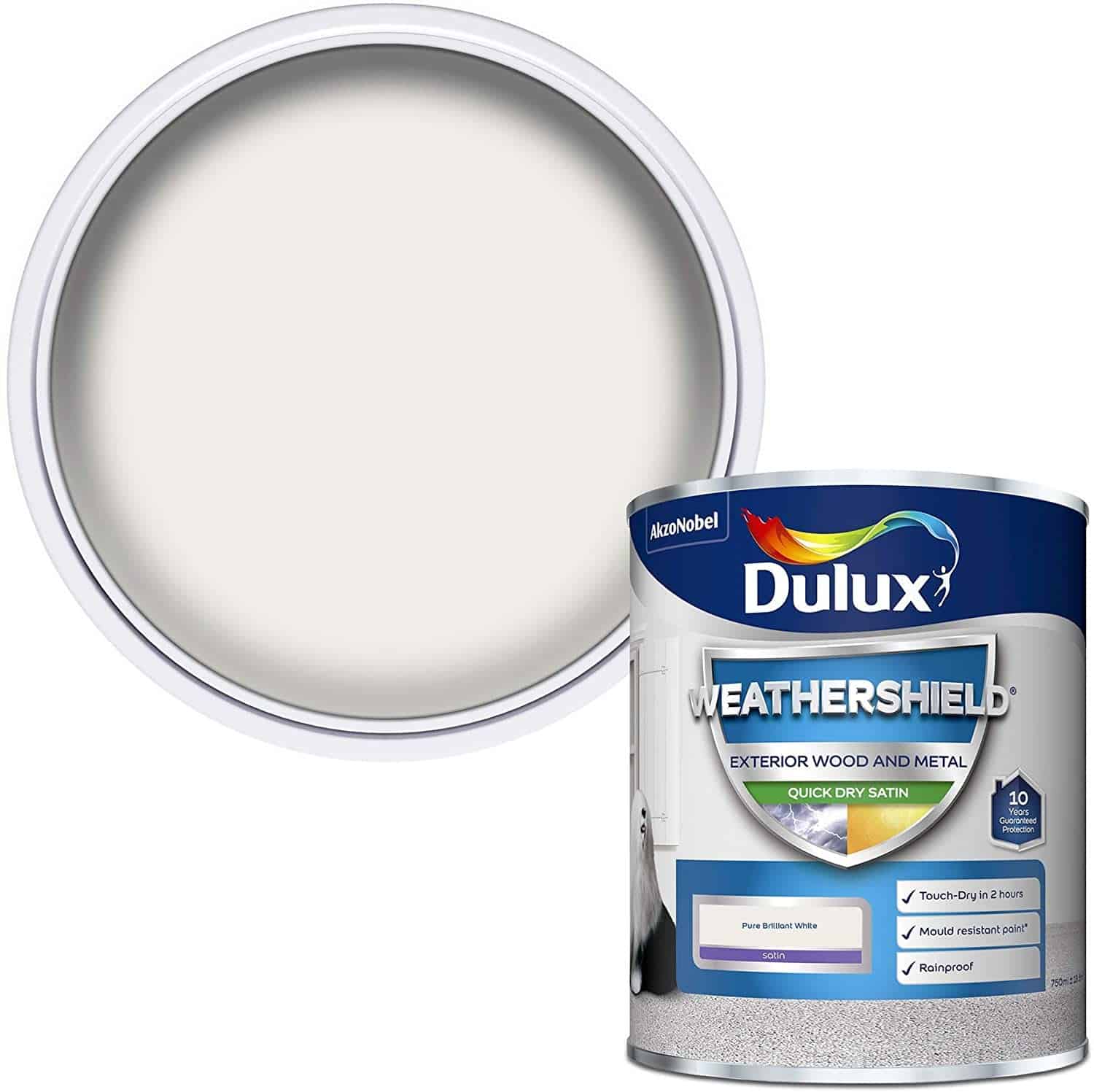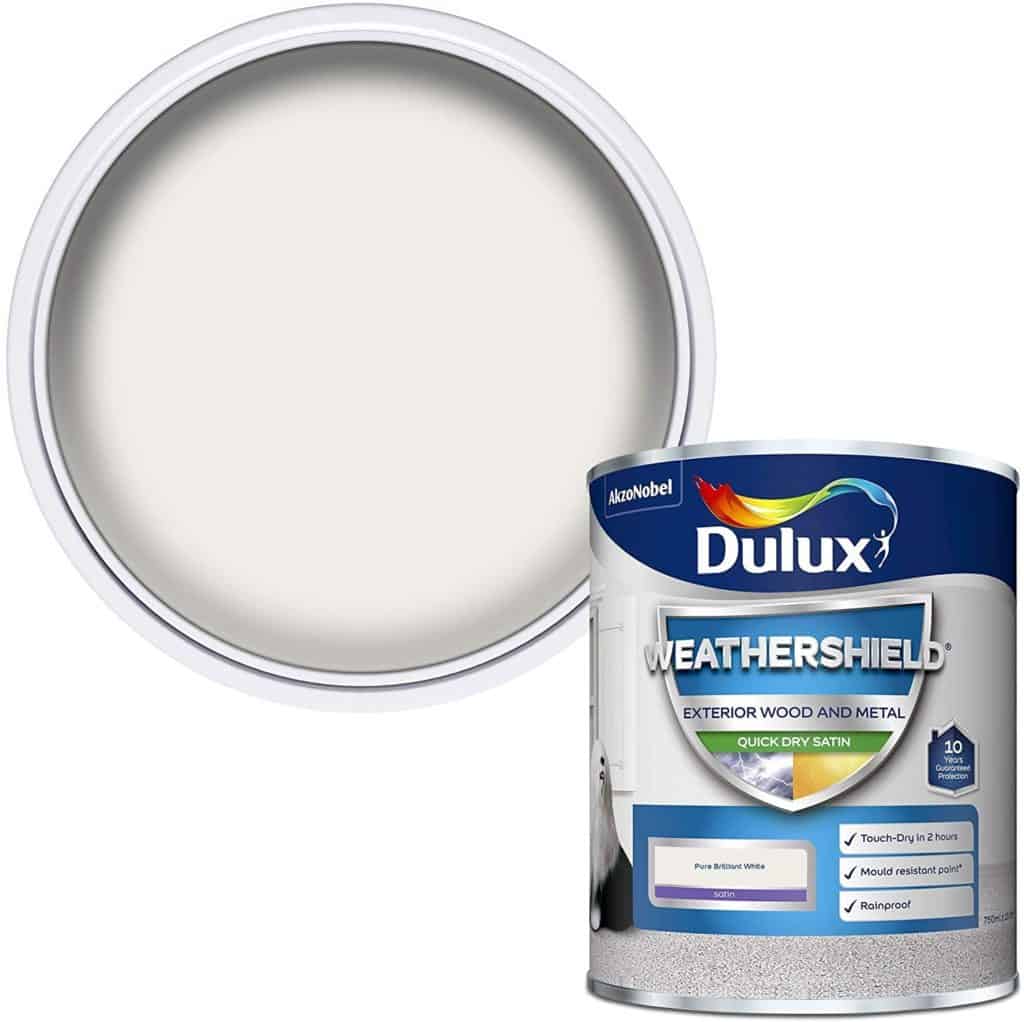 Finish type: Eggshell

Paint type: Water or latex-based

Suitable for: Wood and metal

Best for painting indoor furnishings.

Coverage: 16m²/L

Touch dry: 1 – 2 hours

Second coat: 6 hours (if necessary)

Application: Brush or Roller
For painting outdoor or patio furniture. Dulux paints get you covered with this white paint with 10 years of weather protection guarantee. That's really a deal.
A highly durable white paint for your outdoor furnishings manufactured to withstand rough weather conditions such as humidity, sunlight, rains, and other environmental issues.
The end finish is satin, less susceptible to getting dust, also cleanable with a rag or any regular cleaner will do the trick.
Water-based formula ensures minimal toxicity, that's something you can use on your dining tables. Plus, the application is easy to follow up. Making it an ideal pick for DIYers as with using a brush, expect not to have any brush marks strokes.
The price tag is a bit more than many traditional white paints for good reasons. The satin finish, Low VOC, and that 10 years warrant to be weather resistant are some of the top reasons.
Pros
Offers 10 years of guarantee for weather effects, sunlight, humidity, and rain damage.

Beginner-friendly as this is easy to paint, each slash gives good, even coverage.

Provides added protection to south-facing resinous wood

Water-based satin that's more environmentally friendly

Quick-drying white paint.
Cons
It's pretty expensive per liter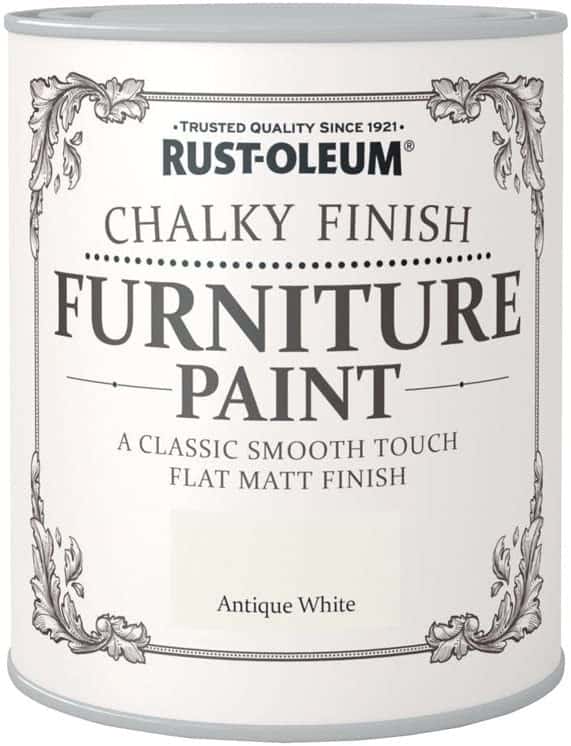 Finish type: Matt finish

Paint type: Water or latex-based

Suitable for: Wood and metal

Best for painting indoor furnishings.

Coverage: 10 – 12m²/L

Touch dry: 1 hour

Second coat: 6 hours (if needed)

Application: Brush
A cost-effective method to bring your old furniture to a new life is to get a coat covered onto them with this matt finish. Chalk white paint, based on the water, offers almost no toxicity at all.
For indoor wooden things, this Rust white paint makes an ideal choice for anyone looking for a cheaper option. Yet you want a durable and vibrant white-colored look.
The finish will match your traditional taste. Designed for wood, it covers wood grains perfectly.
Suitable for indoor applications such as tables, chairs, wardrobes, etc. Keep in mind, you will have to maintain the painted furniture as it's a bit tricky to clean dirt.
Dries to the touch in just one hour, durable, and as other water-based. This one too is easy to apply.
Pros
It offers more coverage with a single coat.

One of the cheap white paint for wood. Value for money

Water-based paint with next to no odor

Sets well on interior wood surfaces without the need for sanding or priming

Comes in either 125ml or 750ml
Cons
Not very durable.

Not suitable for outdoor applications.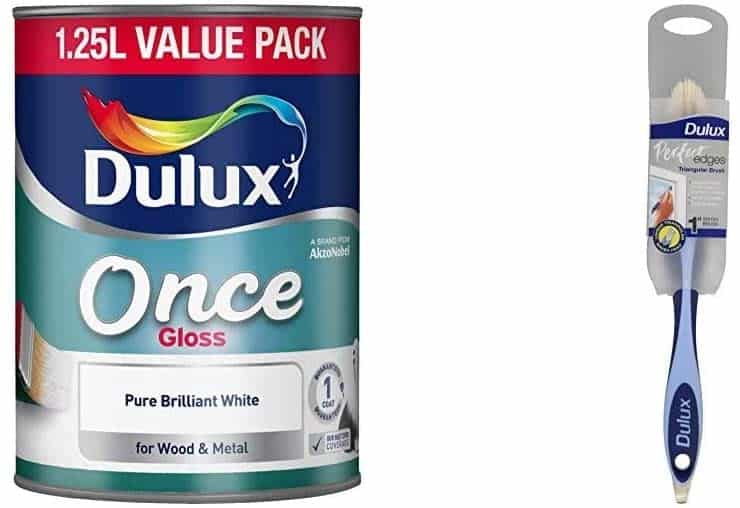 Finish type: Gloss

Paint type: Oil-based

Suitable for: Wood and metal

Best for painting indoor and outdoor furnishings.

Coverage: 12m²/L

Touch dry: 6 hours

Second coat: 16 – 24 hours if needed

Application: Brush
If you are looking for a sheen, high-gloss white paint for painting your wooden furniture. This time Dulux brings you the glossy finish.
It can provide both in or outdoor wooden furniture a highly reflective, aesthetically pleasing touch, durable for years to come. 
Although the paint is not advertised as weather-resistant. Yet it is. Many environmental causes can be protected with this high-gloss finish coat. 
A popular white paint for people who want to trim wooden boards on walls is this Dulux Gloss finish.
Has a bigger drying time, takes a day to fully cure to the touch. The thick coat and made of oil are the reasons for its long drying time. A bit difficult to apply- mainly to get a nice end result as it needs to be maintained for a day until it gets dried to be able to self-protect. This is what makes this suitable for professionals- not DIYers.
Pros
Provides long-lasting protection

Strong coverage

Comes with a precision paintbrush for edging
Cons
Takes a day to get completely dried.

Costs more than other options.

Somewhat difficult to use for DIYers, once applied the project needs to be taken care of for an entire day.