Your built-in blade is not performing as well as would like it to, this is a common problem with DIYers. Demo-blade is a general purpose, it works equally but for cuttings. Some materials may yield good results, while others may not. The good thing is there are various blades that can be integrated with a circular saw. There are blades for cutting plastic, metal, masonry, plywood, and wood.
And this blog post is about circular saw blades for cutting wood.
A blade's tooth count, arbor size, and kerf determine which blade is best for a particular application. 
First off, Identify the type of wood that needs to be cut, is it hardwood, softwood, or plywood? In our previous post, we reviewed the best 7 ¼ blades for cutting plywood. 
Hardwoods can be cut more rapidly and easily with blades that have 16-24 teeth. Builders who frequently use a circular saw for framing cuts, where the speed of cutting is more important than quality, mostly use blades with 24 teeth. For softwoods, a 30-tooth count is required to produce good cuts. A thin kerf also eliminates the need to sand these cuts.
However, a general purpose blades can also deliver good results in wood cutting, but with some exceptions- for example, what quality of cuts do you require for the job?
For precise cutting you need to choose a blade thata has higher tooth count, 30-40 teeth, they can work with both materials either thick or thin. Alternatively, if the goal is to cut quickly rather than precisely, then getting a blade with fewer teeth is the best option. Blades with fewer teeth are also best suited for cutting wood with embedded nails.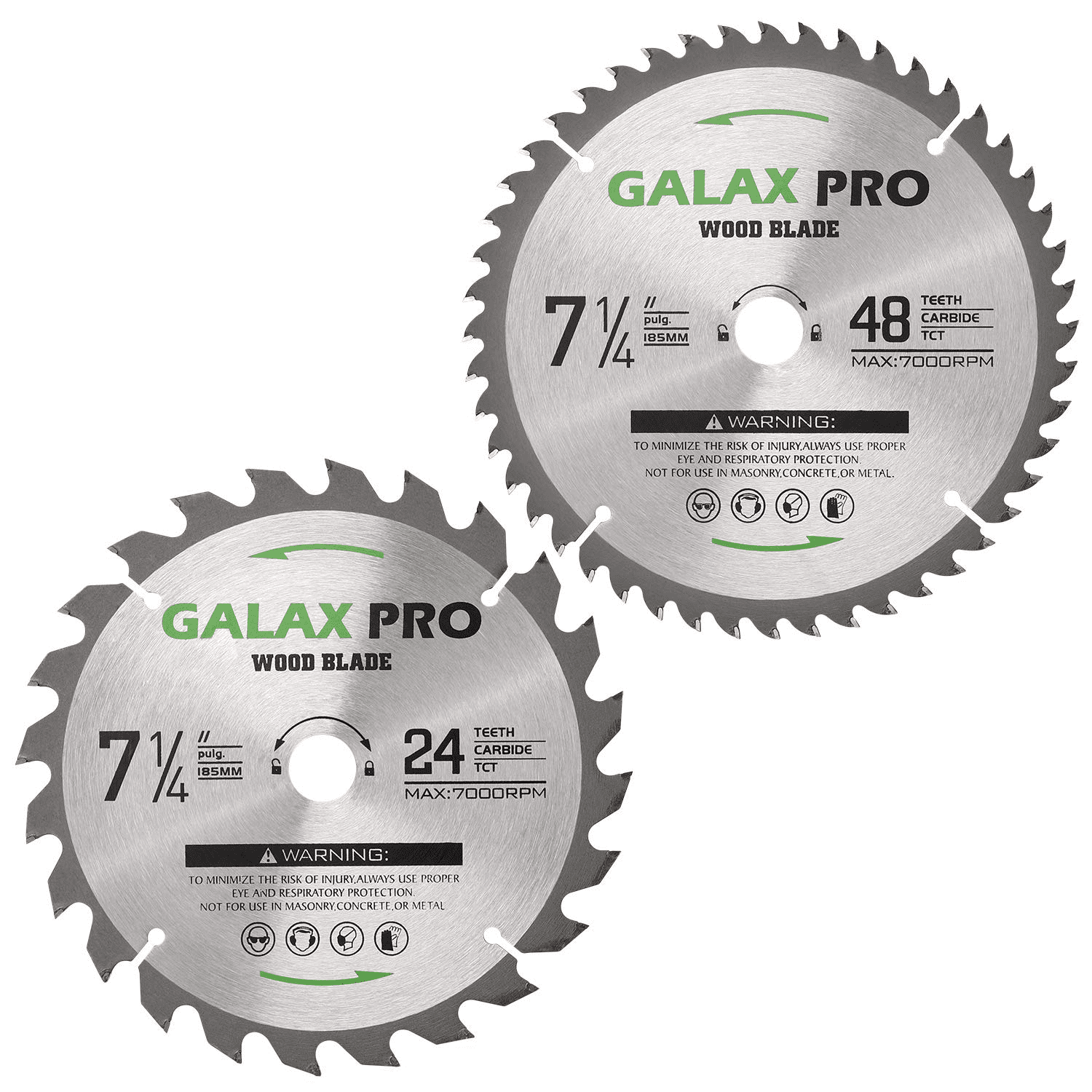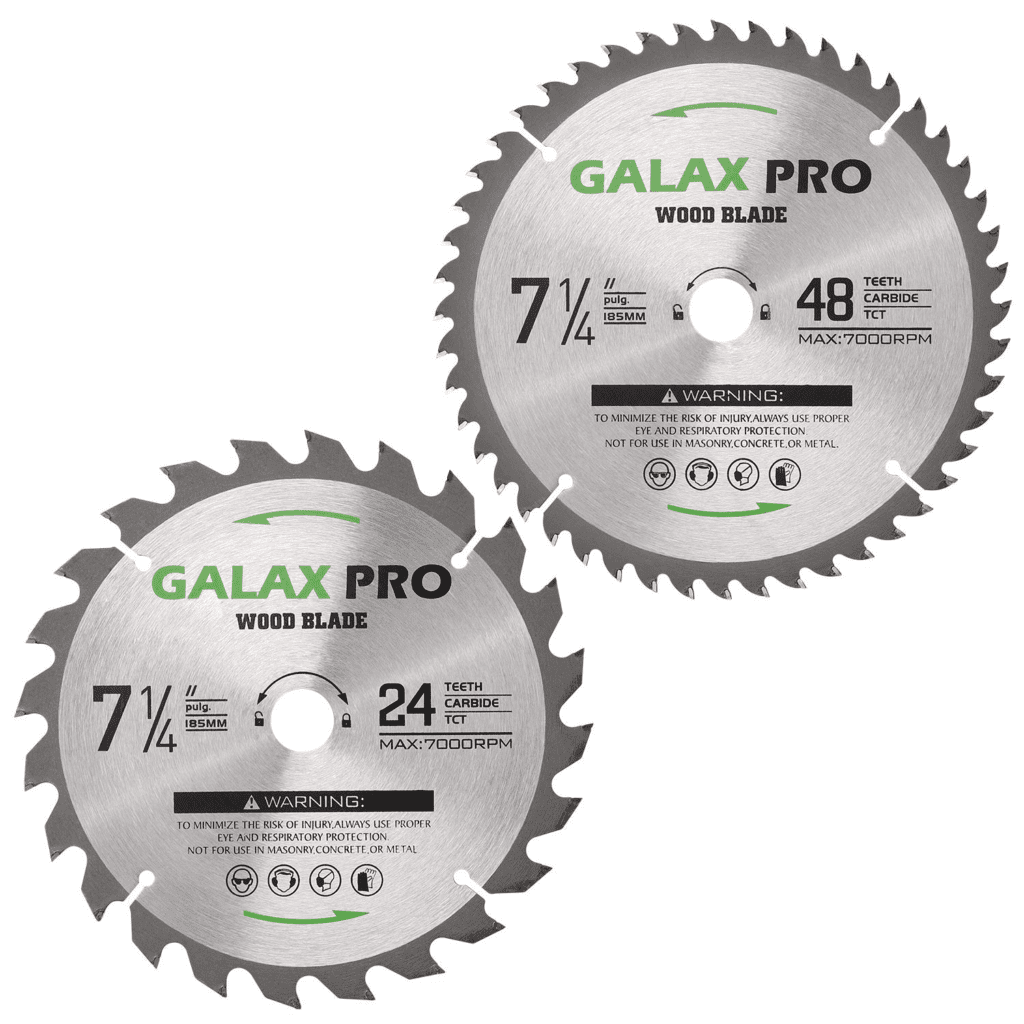 | | |
| --- | --- |
| Material | Stainless Steel |
| Brand | GALAX PRO |
| Number of Teeth | 48 |
| Compatible Material | Wood, Plastic |
| Number of Pieces | 2 |
A pair of blades that fit well, whether you are cutting thick or thin wood, might be necessary when you are not sure which blades to use. The Galaxy Pro 7 ¼ offers two blades in one pack, one with 24-tooth and the second is 40-tooth. Both are designed to work with woods accordingly and have carbide top, sharp kerf, and expansion slots to maintain stability when frictions overheat them.
Use the 24-tooth blade to slice woods that are harder and thick. Change to 40-tooth when making precise cuts of plywood.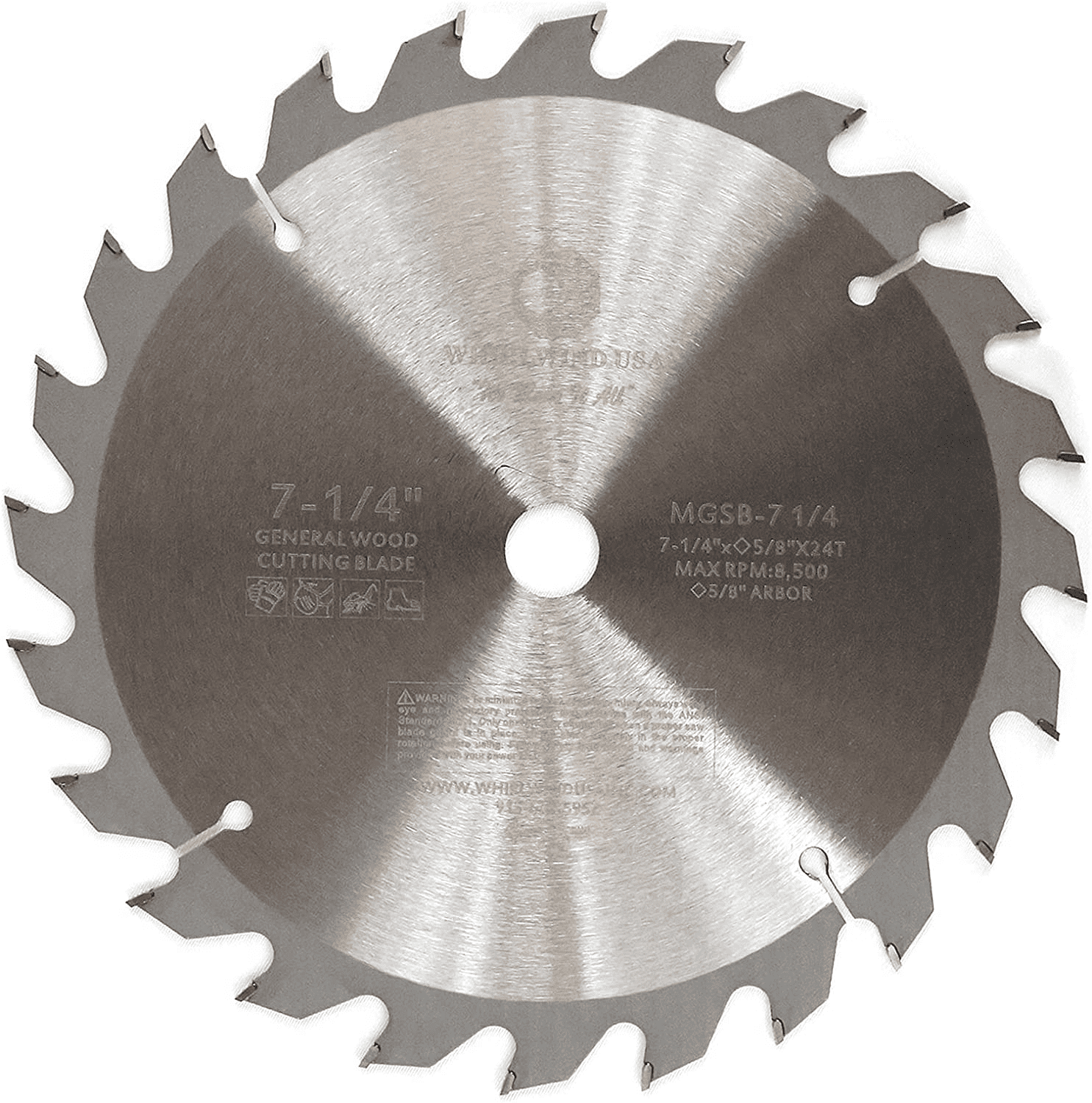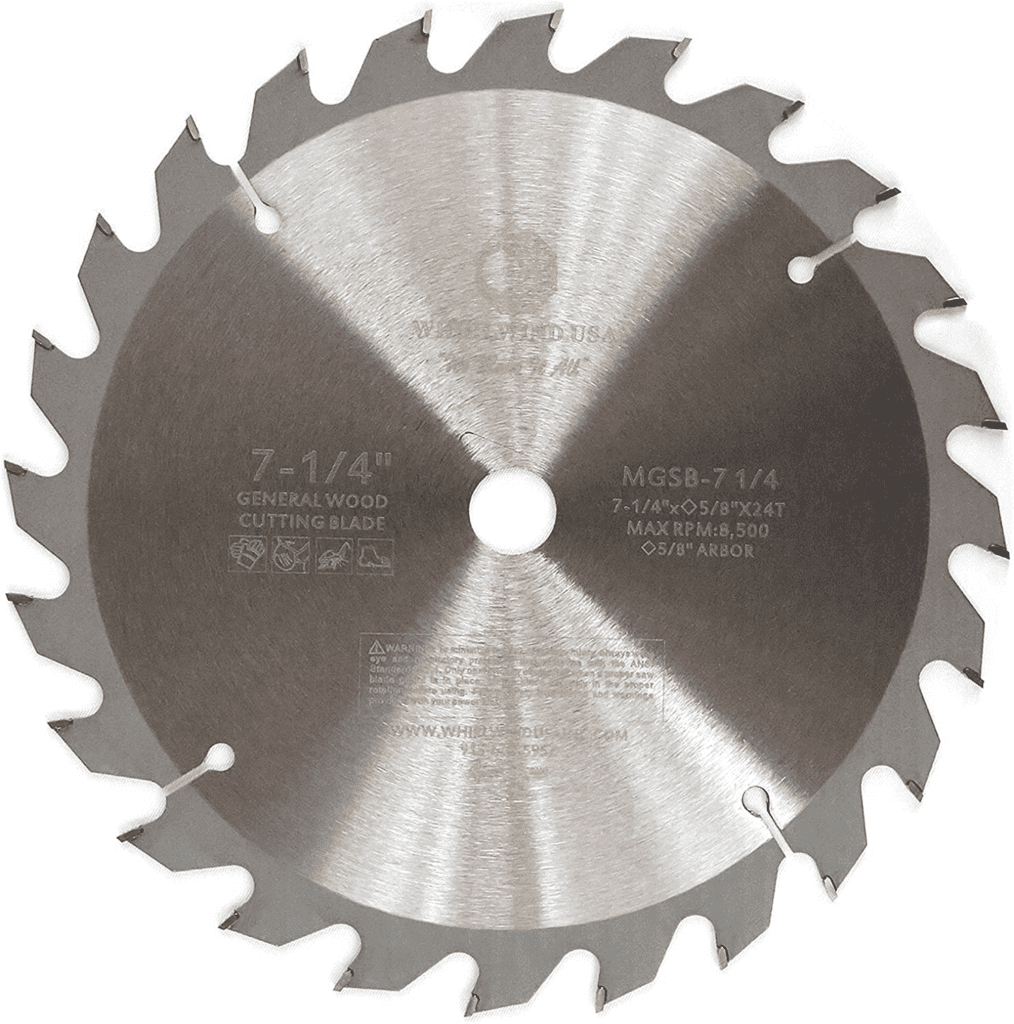 | | |
| --- | --- |
| Material | Plywood, Wood |
| Brand | BEEING |
| LxWxH | 10.23 x 9.44 x 0.2 inches |
| Tooth-count | 24 |
At times you may want to make precise cuts on a thick hardwood. For the perfect job, consider this quality 7 ¼ blade with carbide-tipped on teeth and a body made from a premium steel alloy. The main benefit of this blade comes from its lower price than its competitors. Still, manufacturing is excellent, especially for working with woods, the 7 ¼ inches blade has a sharp and thin kerf shaped in alternate bevel, that delivers smooth as well as rapid cuts. 
It's capable of ripping, and cross-cutting thick hardwood to 3-½  thick, and softwood to one inch thick. It is ideal for cutting hardwood, softwood, exotic wood, and abrasive wood. Suited on circular saws, table saws, miter saws, hand saws, and chop saws.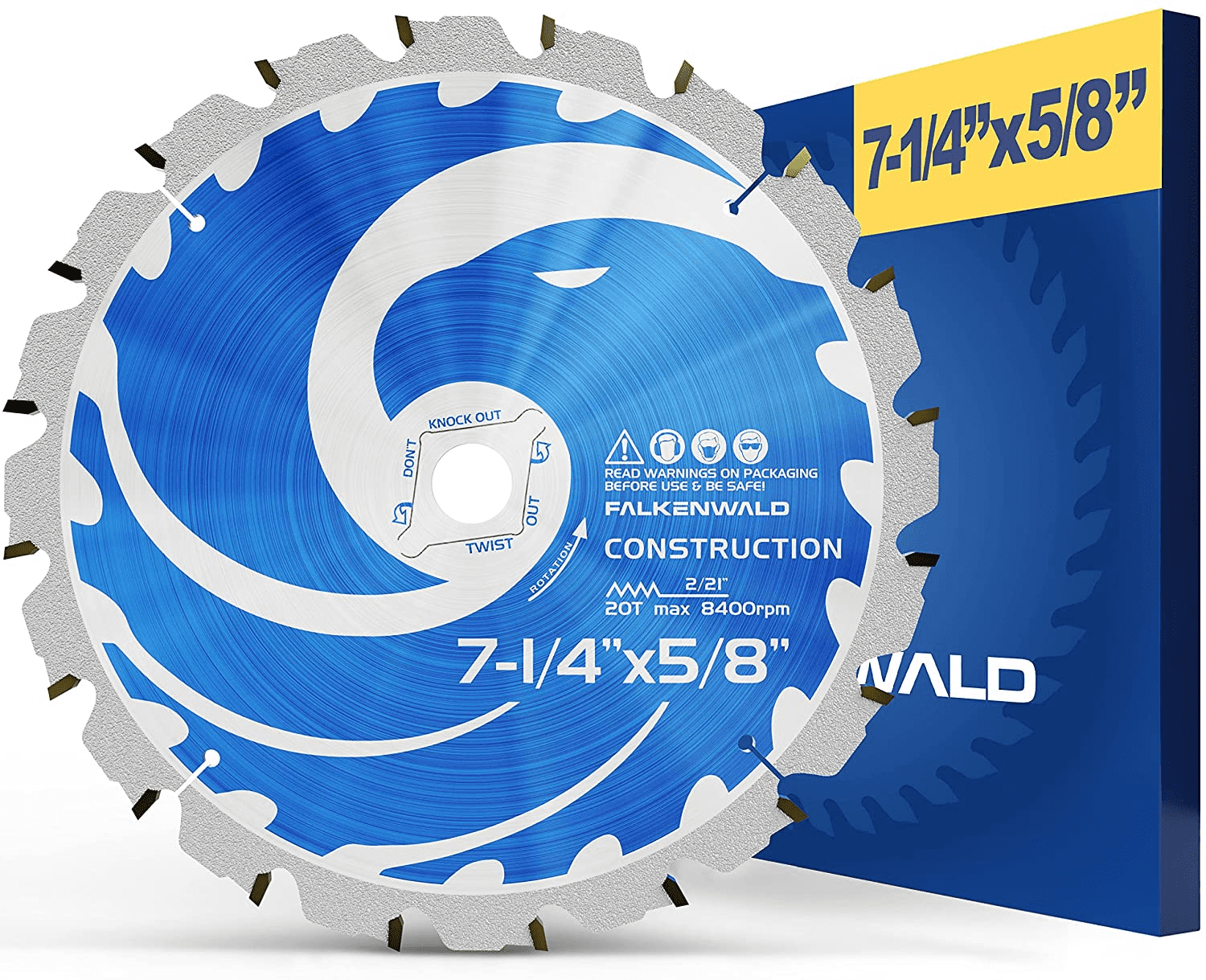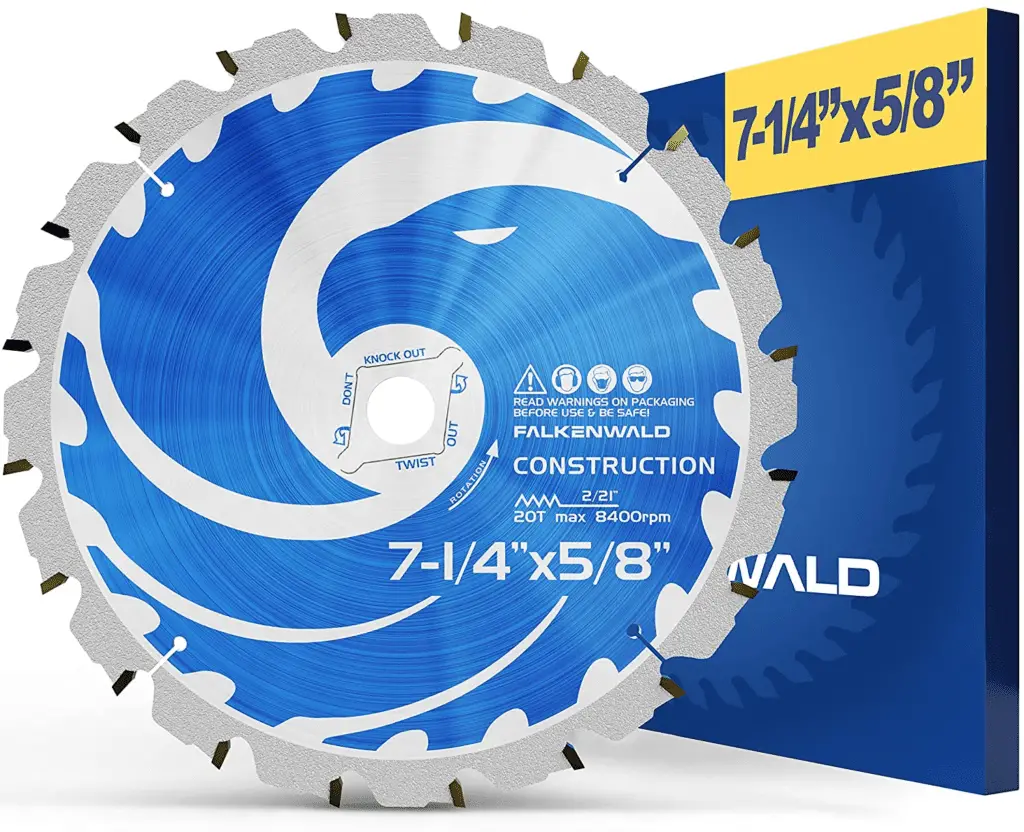 | | |
| --- | --- |
| Material | Wood, Hardwood |
| Brand | FALKENWALD |
| Compatible Material | Engineered Wood |
Blades with fewer teeth are better for framing hardwoods, softwoods, also engineered wood. Falkenwald 7 ¼ blade is optimized for the job. Featuring sharp teeth, the Falkenwald framing saw blade makes cross cuts extremely quickly and accurately. A carbide cutting surface ensures long service life. Fewer tooth counts, in numbers 20-teeth, enable faster cutting and with the sharp kerf, the quilty of cuts is further enhanced. Falkenwald blade offers a guarantee for 60 days, in which you can get your money returned if you aren't satisfied with the product.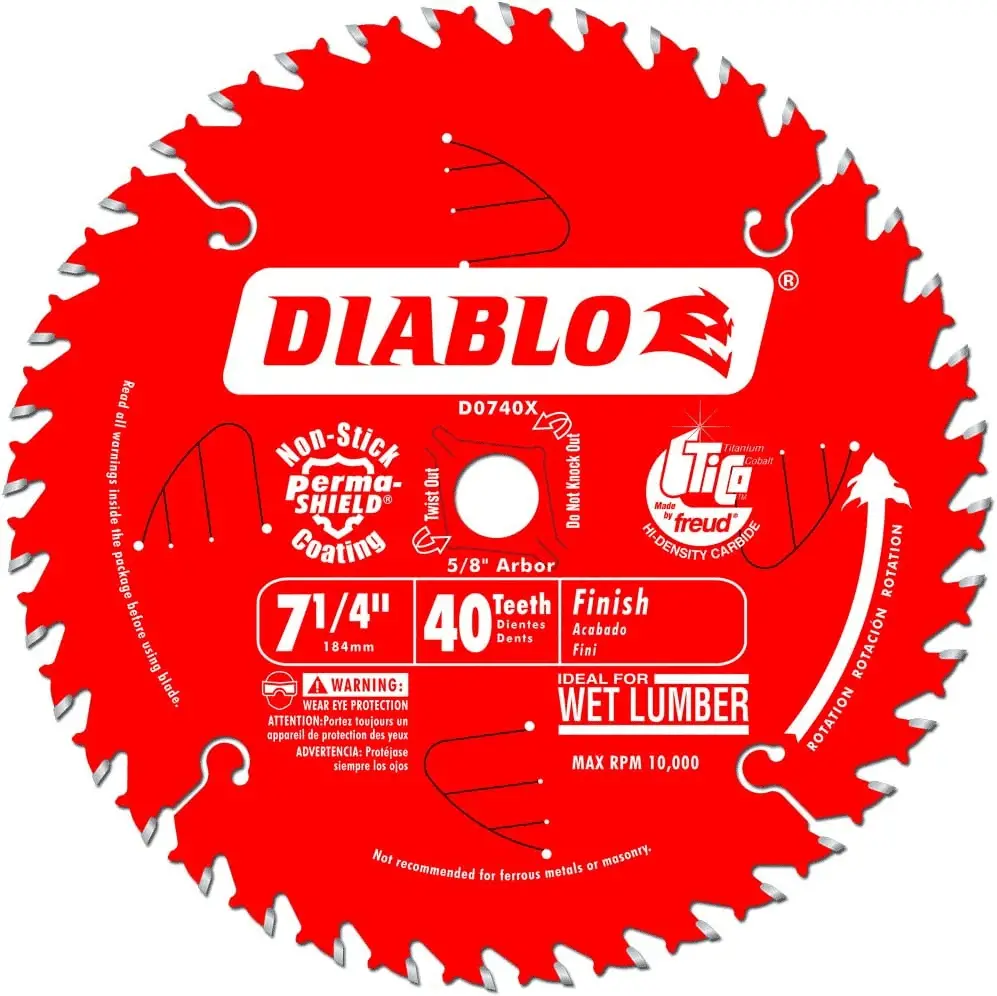 | | |
| --- | --- |
| Material | Carbide |
| Brand | Freud |
| LxWxH | 7.2 x 7.2 x 0.3 inches |
| Color | Multi |
| Number of Teeth | 40 |
| Style | 1-Pack |
If you make fine-wood cuts more than framing hardwoods. Consider this 7 ¼ blade from Freud. It describes itself as a finishing cut blade that can equally work for framing. Nonetheless, This 40-tooth is a general-purpose blade, which is the reason why it can cut both thick and thin kinds of wood. Cutting wood planks 1- to 1 ½ inch thick is well suited for the blade so mostly preferred by DIYers for building home projects like building cabinets, doors, wardrobes, etc. However, its shaper and thin kerf, coated with Ti-Co carbide enable the blade to cut hardwood thicker than 1 ½ inch (both cross-cutting and ripping is possible)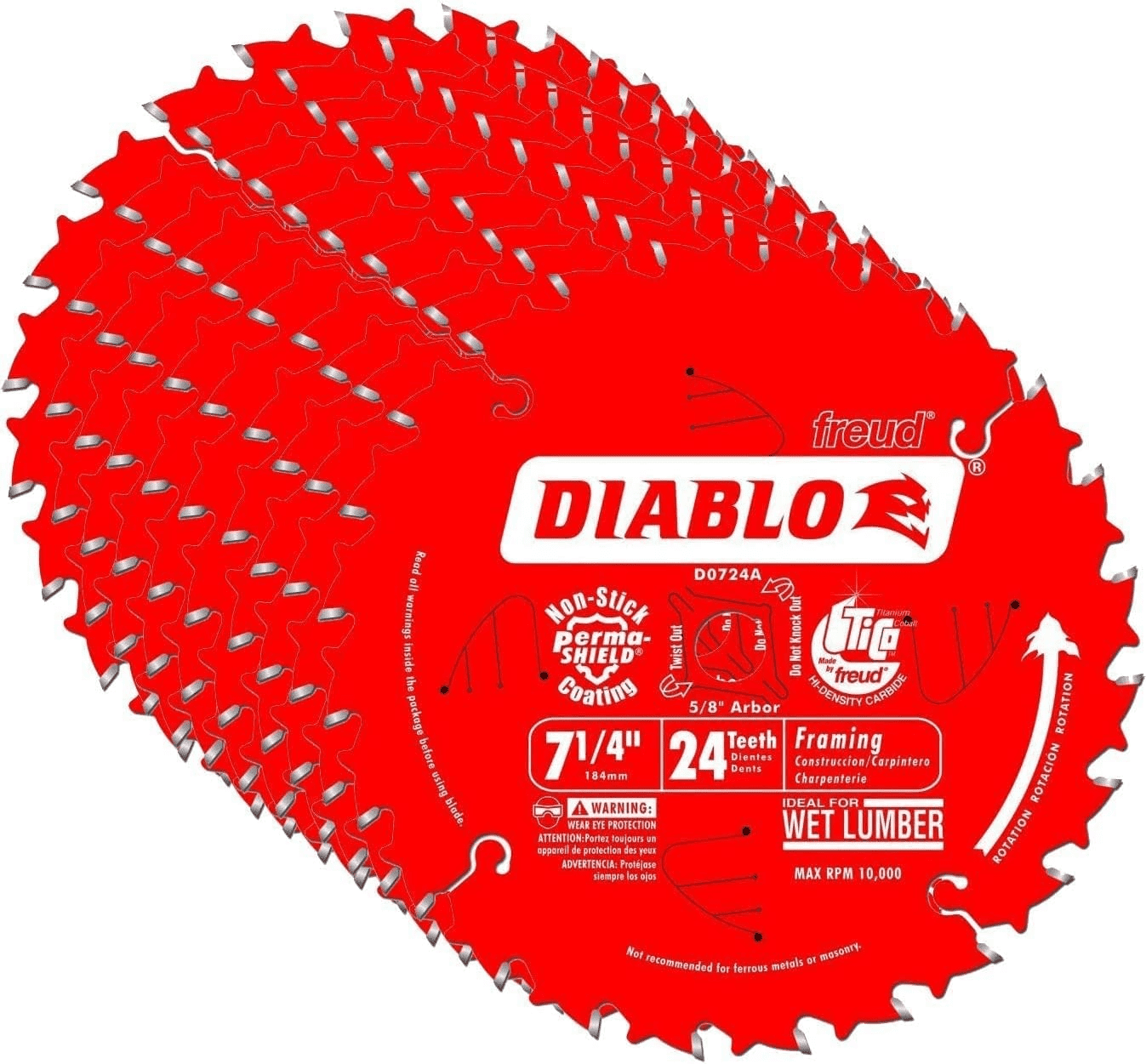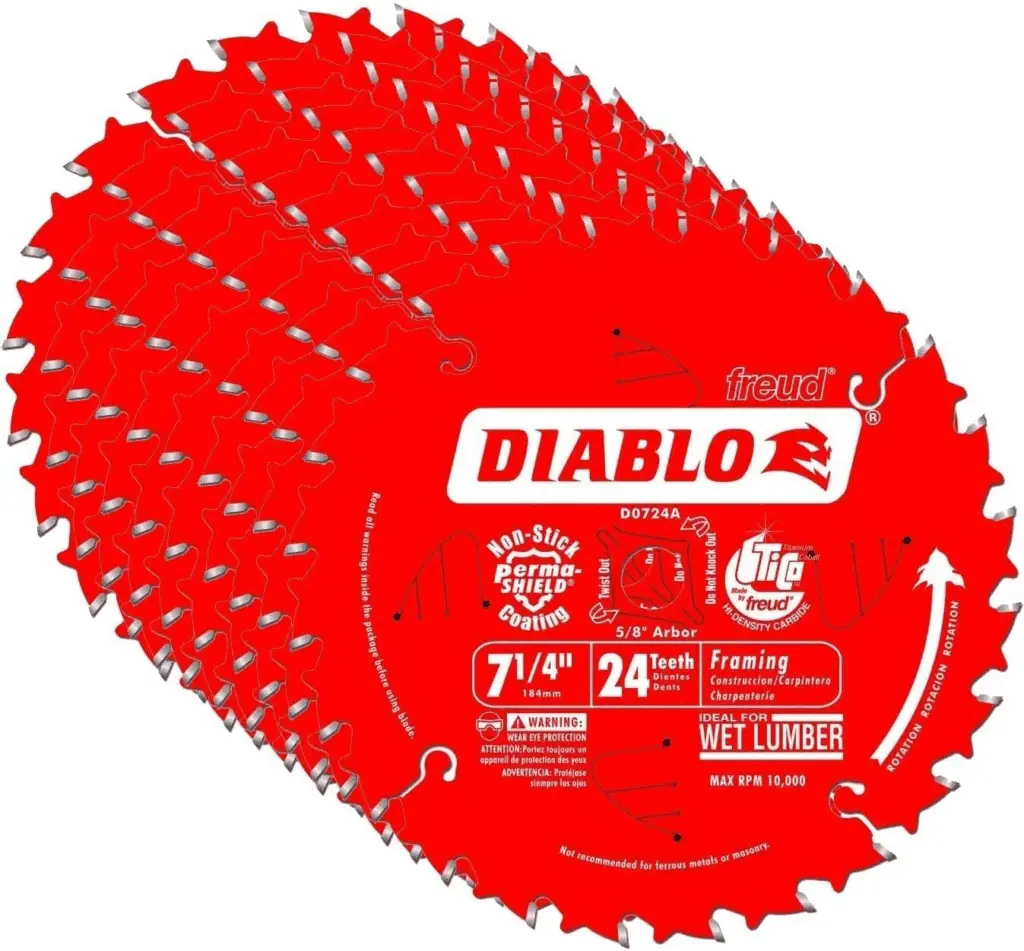 | | |
| --- | --- |
| Material | Carbide |
| Brand | Diablo |
| Item Dimensions LxWxH | 8.9 x 8.3 x 1.5 inches |
| Number of Teeth | 24 |
| Item Weight | 0.45 Pound |
While framing for construction. It's common for woods to have embedded nails that can cause blade damage. So unlike your previous blade, this one keeps going on slicing the nails that come in the way. Although it's not recommended to use it for nail cutting, it won't damage the blade if it happens by chance. Made from carbide with expansion slots, 24-tooth counts are ideal to cut through hardwoods of thicker size easily. Overall, for contractors and professional woodworkers, this is the best partner.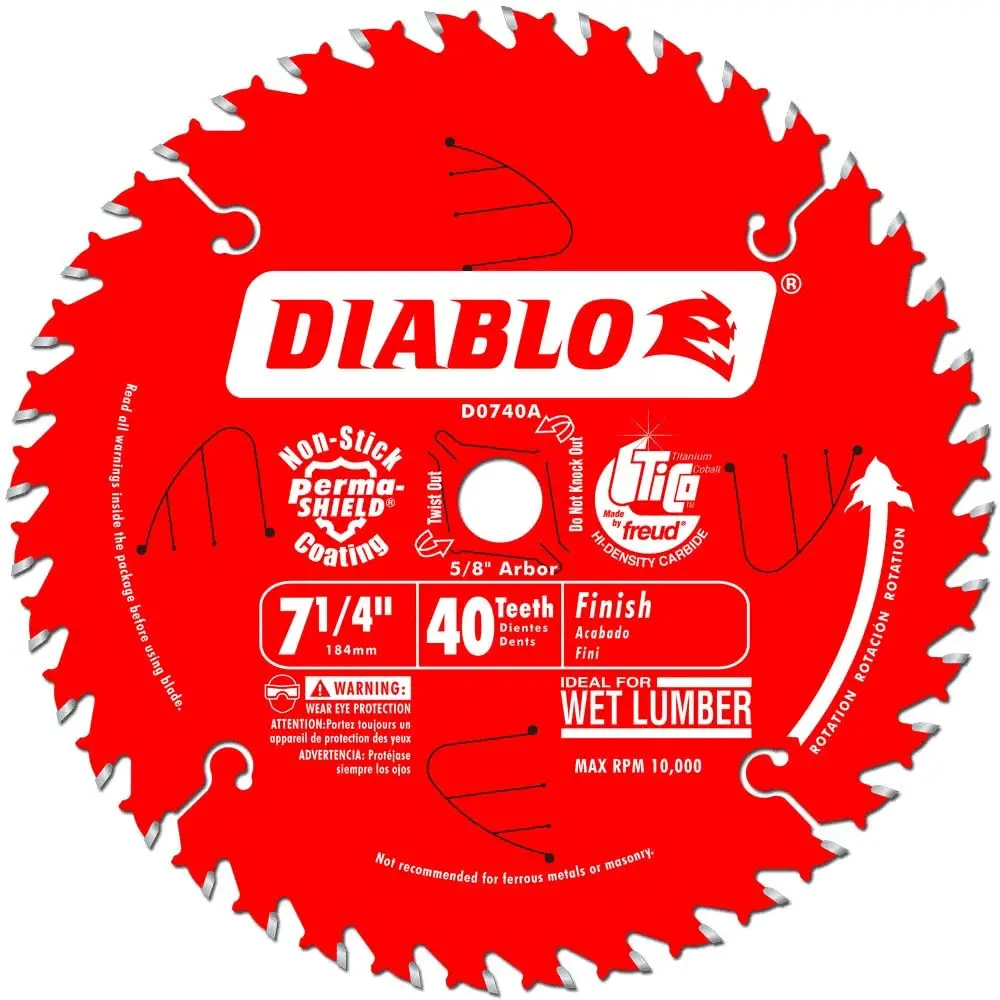 | | |
| --- | --- |
| Material | Carbide |
| Brand | Freud |
| LxWxH | 7.25 x 7.25 x 0.31 inches |
| Number of Teeth | 40 |
| Style | Portable |
| Item Weight | 0.3 Pounds |
Cutting Pressure-treated woods require power and precision- if you really demand the best possible results. There comes this blade, 40-tooth count with thin kerf, and the blades are sharpened to slice through a 2-by-4 butcher block like butter. The best part is yet to come, in addition to its rapid cutting ability, it cuts precisely clean so no sanding is required afterward, and is engineered to reduce irritating sound. The blade is quite versatile, use it for cutting plywood sheets, and making cross and rip cuts on wood. It gets the job done.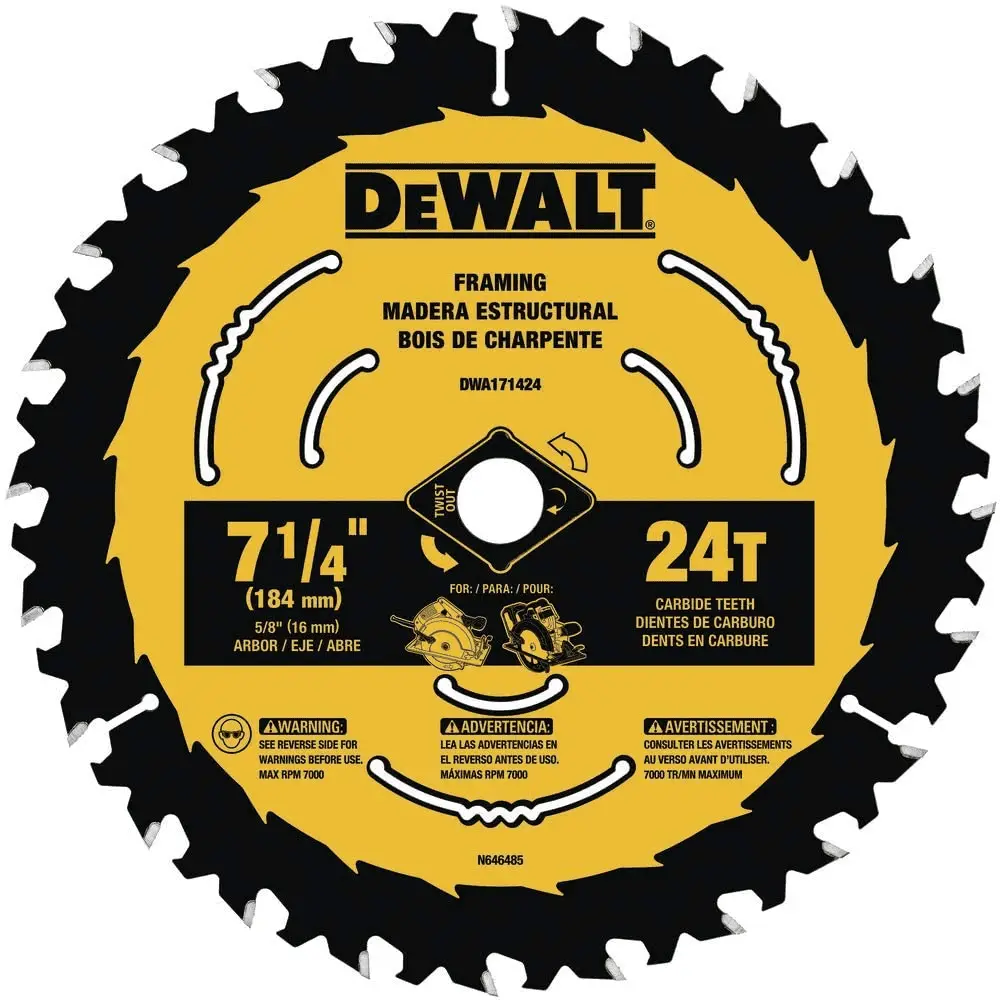 | | |
| --- | --- |
| Material | Tungsten Carbide |
| Brand | DEWALT |
| LxWxH | 0.5 x 8.5 x 9.75 inches |
| Number of Teeth | 24 |
| Item Weight | 0.57 Pounds |
Making fine woodcuts is challenging, especially when you are trying to cut faster. The task becomes even more challenging if you lack experience in handling circular saws. This is where the Dewalt DWA 171424 comes to help, with 24-tooths the cuts are faster, Also, the blade Features an alternate top bevel with raker (ATBR) grind, yielding good rip cuts. As a side note, the kerf is thinner than you may find in other similar blades, so cutting through wood nails perhaps damages the blade. Otherwise, it's good to use for cutting plywood sheets. The best part of this blade is it's coated with a water-resistant finish to keep this blade corrosion free, perhaps the manufacturers tried to make this blade suitable for cutting wet wood.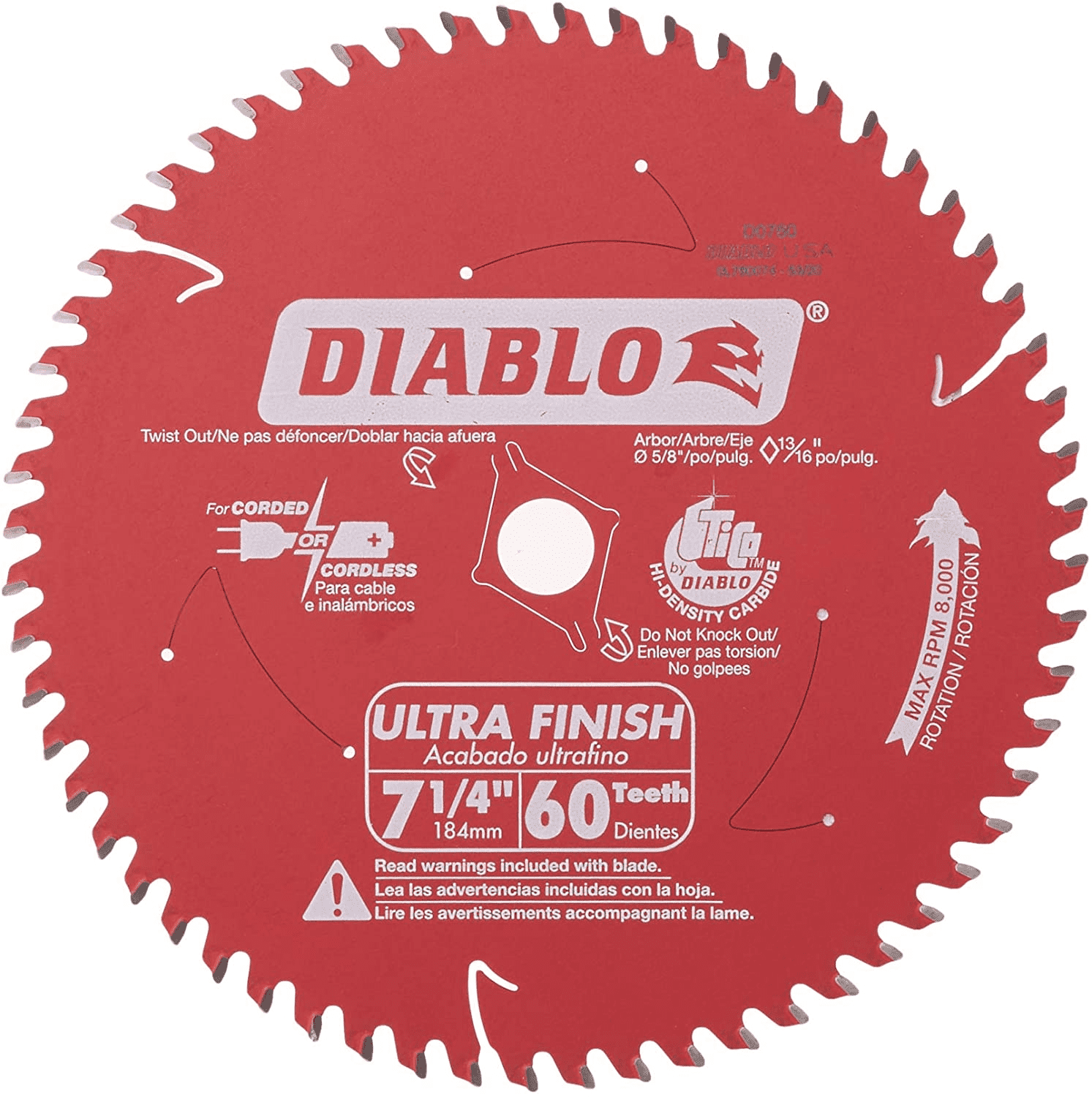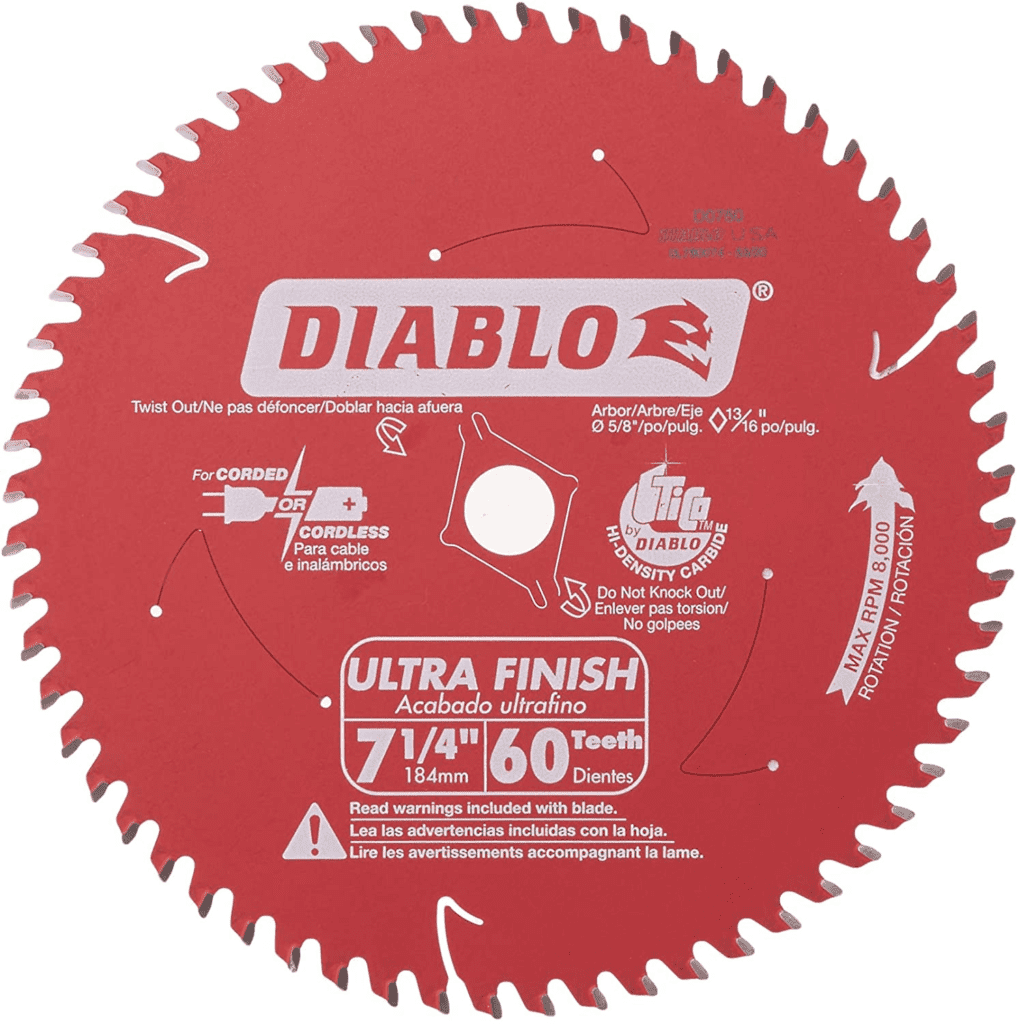 | | |
| --- | --- |
| Material | Blend |
| Brand | Freud |
| LxWxH | 1 x 7 x 7 inches |
| Color | Multi |
| Number of Teeth | 60 |
| Item Weight | 0.3 Pounds |
For precise cutting of thin wood sheets, you need a blade that has more teeth, a thin Kerf, and a sharp edge of carbide. Don't miss out on this 7 14 blade if you've never found the best for the job. Usually grainy and chippy woods can slow down the cutting process, so it might not be the best product for slicing hard or thick woods. For best results, this blade should be used to slice thin woods and plywoods. 
Choose the best circular saw blade for wood- GUIDECircular saws 
Standard blades come with circular saws as part of their general-purpose features. But to meet the specific requirement, you may at some time need to pick a blade that suited the job the best. And here's our guide on choosing the best 7 ¼ circular saw blade for wood cutting.
The type of wood material makes a difference.
Many blade types are available for cutting plywood or OSB, and some are designed specifically for framing or roofing. Higher teeth count t and the thin kerf are ideal when the quality of cuts matters, like in making a DIY project using plywood sheets. Finishing quality does not matter that much when making framing cuts. So 24 teeth with slightly thick kerf get the job done.
What is KERF and how much is suitable for wood cutting?
There are three types of kerf: full, thin, and ultra-thin. Circular saw blades are invariably thin or ultra-thin, so they do not weigh as much, use less power, and reduce carbon emissions. For wood, the thin kerf is suited the best when framing, choosing an ultra-thin kerf can damage the blade teeth when a nail comes in the way. 
What is the best material for a wood blade?
Typically, high-carbon steel (HCS) or high-speed steel (HSS) are used as the blade's main material. Both are strong and durable but can be rusted. The manufacturer usually applies a coating to prevent the buildup of resins and reduce friction when cutting softwood, as both are prone to rust.
Less the friction of a blade the better it is for wood.
The amount of Friction is important when choosing a blade because overheated blades can warp and burn wood. Adding stabilizer vents, also known as expansion slots, to the blade's body makes prevention easier- reduces warping. A tungsten carbide tip is usually added to most blades. The hardness of tungsten carbide chips helps them retain their cutting edge for longer periods of time, as well as disperse heat more effectively.
Tooth count in a wood blade
In general, woodcutting blades typically have teeth ranging from 20 to 60 teeth, while metal-cutting blades can have 100-140 teeth or more. As the denser material, higher teeth are required, for instance, the metal. While grainy woods cut best with fewer teeth.
Choose the ATP tooth grind for cutting wood.
In addition to tooth count, there are other factors to consider. It is equally important to pay attention to the tooth grind, or the shape of the cutting edge. Most woodcutting blades use alternative top bevels (ATB) or hi-ATBs. Throughout the teeth, the sharpened edge appears first on the left, then on the right.
Source: https://www.bobvila.com/articles/best-circular-saw-blade/