Here we've listed out the best Dewalt table saws that accept dado blades- Updated in 2021
Dado cutting has specific requirements that not every Dewalt table saw can meet.
Fundamentally, the arbor hole, when considered for dado cutting, must be wide enough for the thicker blades to fit firmly, with the motor power also being an essential factor.
When deciding to purchase a motor in a table saw for dado cutting.
Choose one that can deliver at least 4300 RPM in order to handle the power required, and run at 15 AMP to prevent heat cloaking.
Highlighted our top picks
Below are Dewalt table saws that accept dado along with a buying guide to assist you.
Dewalt Table Saws

Accept Dado Max-Size

What else?

Price

1. DEWALT 7491RS

 

13/16″

Rip capacity: 32-1/2″

Table size:21-7/8″ X 26 – 3/8″

Included a Dust port

Motor: 15 Amp

Check on Amazon

2. DEWALT 7490X

 

13/16″

Rip capacity: 24-1/2″

Table size:26X 22″

Included a Dust port

Motor: 15 Amp

Check on Amazon

5. DEWALT 744XRS

 

13/16″

Rip capacity: 24″

Table size:26-1/2″- 19-1/4″

Included a Dust port

Motor: 15 Amp

Check on Amazon
DEWALT 7491RS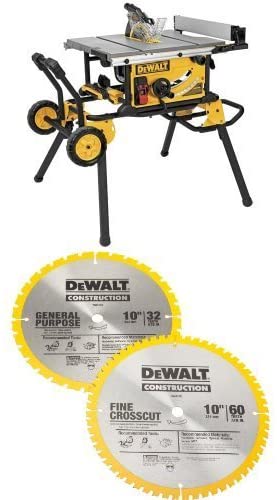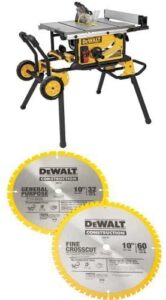 Weight- 90 pounds

Blade's Size- 10-inches

RPM- 4800

Product Dimension- 31 x 24.5 x 31 inches

Warranty- 3 years

Max support for Dado – 13/16 inch
other features of the cutting tool. The maximum cutting depth to the left of a blade is 22″ and to the right of the blade is 32-1/2″; the Arbor size is 5/8 inch; amps are 15.
Our Opinion-
Dewalt 7491RS is the perfect unit for anyone looking for a table saw for a job site.
Considering the facts, it provides safety, portability. Cuts are accurate, easy to get started, and packed with tools that a woodworker will want to stock up.
Notably, the arbor hole of this table is designed to accept dado blades of 13/16 thickness.
And what makes it stand out is its capability to cut through dense woods. It's because of the 4800 rotations powered by a 15 AMP motor.
Review-
This table saw can work equally fair against various woods, ranging from rigid boards to soft. Offering a maximum cut depth of 3.1 inches and has a 32.52 inches long rip capacity that makes it a perfect balance to work with broader wood sheets.
Not far behind its 10-inches blade that slices off rips flat out.
Safety is one of the crucial factors to look out for in a table saw before making your decision. High-powered motors come up with a higher potential of injuries.
However, this Dewalt 7491RS claimed to be one of the most beginner-friendly table saws, with close to no risk of injuries. It is installed with a blade guard plastic cover that shields the blade—making it safer to work with hands because the shield cover provides a space between your hands and the blade.
Due to its solid rails that can hold up over time, it is portable and can be easily carried from one place to another. 90 pounds is an enormous weight, yet it has been made easier in practice.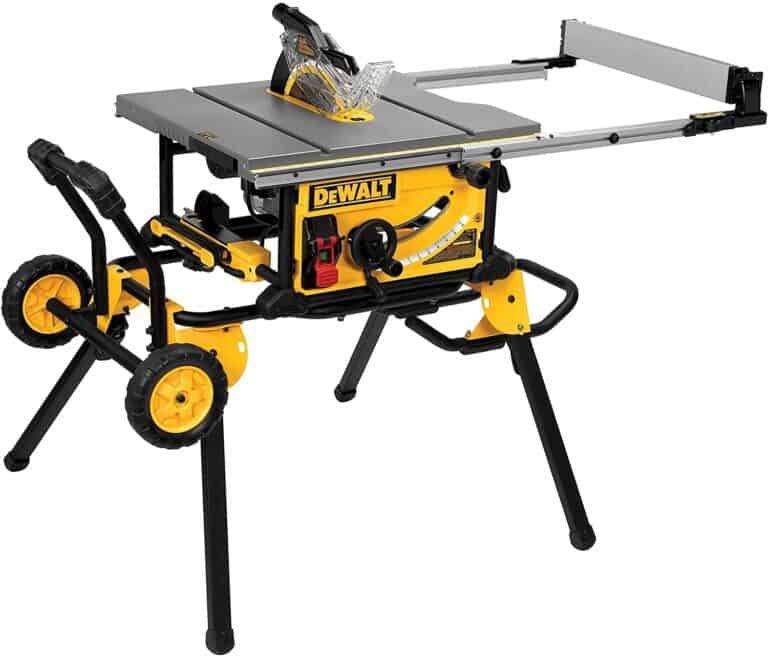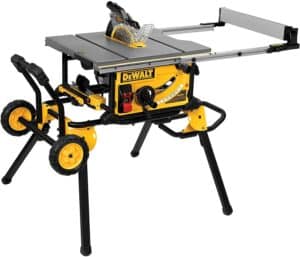 Weight- 58 pounds

Blade's Size- 10-inches

RPM- 4800

Product Dimension- 30.75 x 20.38 x 30.25 inches

Warranty- 3 years

Max support for Dado – 13/16 inch
Our Opinion-
It almost has the exact specification as Dewalt 7491RS and is known as an intelligent child of it. Overall performance-wise, it's good and hits up all the bells and whistles one may look at in a table saw.
However, compared to our first pick, it lacks a few points.
On top of them comes a slightly shorter rip capacity, which puts it under a significant disadvantage to working with more comprehensive sheets.
Suitable for hobbyists- DIYers to create photo frames, cabinets, furniture pieces.
There is little need to modify this Dewalt model 7490x to accept dado blades; it defaults to most dado blade sets.
And obviously, it got enough power required to cut through such broader cuts, at no heat.
Review-
This table saw packs everything out of the box.
Good accuracy, portability, as well offers high torque to cut through hardwoods.
Power is designed to support dado blades, so you will make a good choice considering this table saw.
Have the rack and pinion fence rails system to enhance its accuracy.
The fence is super easy to adjust- you can say it hardly takes any superior knowledge to perform accurate cuts due to its durable blades, which drag parallel all the way from start to end of a cut.
For miter gauge users, its built-in gauge may not please them. But talking about it as a downside will be unjust when you can replace it with a better one.
The same goes for blades for professional cuts.
However, since you will be using it with dado blades. It shouldn't bother you either.
The unit includes plenty of many useful features.
Safety being focused there offers to extend rip capacity about 28 inches- only a few Dewalt can defeat it, such as Dewalt 7491 RS.
Taken as a whole, this Dewalt's table saw features.
In reality, you can achieve much more with this table saw, such as narrow cutting, intricate wood cutting, dado cutting, to name a few. Nothing is beyond this table saw!
DEWALT 744XRS with rolling stand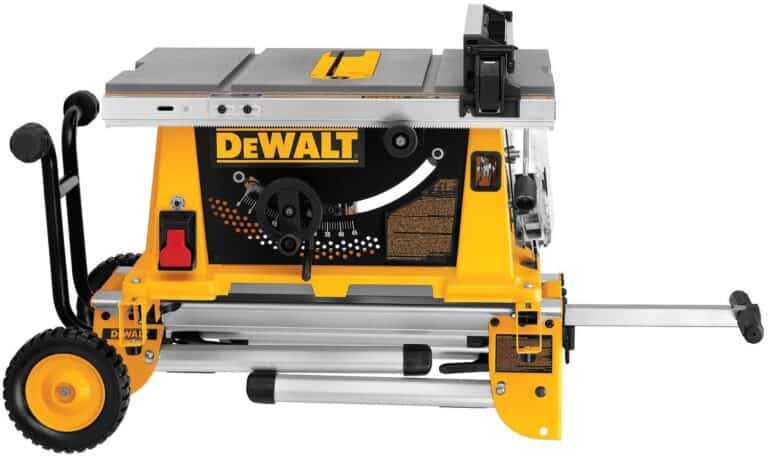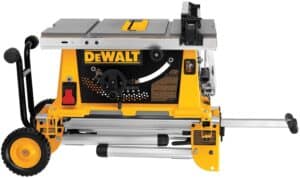 Weight- 110 pounds

Blade's Size- 10-inches

RPM- 3650

Product Dimension- 35.5 x 25.63 x 23.5 inches

Warranty- 3 years

Max support for Dado – 13/16 inch
Our opinion
There are two units available for this same model, one with a stand and a without stand.
For those, portability is not a problem and can opt for a model without a stand that will save them extra 100 bucks.
With the power being the same, coming out of a 15 AMP motor that rotates the blade with a clock of speed 3650 at maximum.
Both of the Models Dewalt 744XRS features support for dado blades maximum width of 13/16 inches. Versatility to cut through every type of wood is on the mark.
It probably can make every type of dado cut on every wood material- still, hardwoods should be avoided.
Review
The following unit offers an ideal for people looking for a table saw to work in most of their projects- packed up with features that can relate to other popular saws such as Bosch 4411-1.
Ultimately, it can stand out as an all-rounder table saw. With a rip capacity of 24-½ capable of performing cuts on large sheets.
Safety is highly focused- Dewalt's blade guard system is the key point, making it an ideal choice for everyone. Especially taking beginners this table promises to be a perfect choice for them.
Mentioning its weight which is quite a prominent figure.108 lbs as a whole speak for its ideally made for job sites, or to keep its place at a specific terrain.
Don't worry if portability is to be concerned, opt for the one with a rolling stand that will make it easier to move it around.
Taking into account its ability to depth cut- a 90-degree angle can be cut up to 3 1/8 inches deeper than a 45-degree angle and a 3 1/8-inch depth at a 45-degree angle.
A surface measuring 26 1/2 x 19 1/4 inches should be sufficient for nearly all applications.
About Dewalt-
Dewalt is a worldwide brand that specializes in power tools. Known for their table saws offering great cutting capabilities for small to medium wood projects as well as professional users to have on their job site.
For the fact it's a versatile brand, in that sense, It has an array of options to choose from to match individual preferences.