To provide extra protection to kitchen cabinets or regular indoor or outdoor furniture from hazards of weather and change in humidity.
The danish oil is the product that is made for such purposes, simply put, it puts an additional layer to extend durability.
If after staining a wood you now wish to coat it with Danish oil, what should you do? Would it be a good idea? Let's find out.
Yes! You can Use Danish Oil over Stain.
I have found Danish oil to be useful over oil stains and dies only.
Gel stains and water-based stains will not work over it because the stains have a lot of tiny particles called pigments, which become resistant.
However, Danish oil can penetrate dye and a clear coat of stained oil. This simply means, to apply it, make sure there is no extra strain lying on the surface, instead, it must be even.
From my experience, I would not recommend putting danish oil on water-based stains. In a general sense, an oil layer cannot penetrate a water-based layer thoroughly.
If you still have some concern left (which is most likely) then it's best to first test the experiment on a small piece of wood in order to save yourself from big trouble.
What could Danish oil do when applying it over a stain?
Danish oil as the name suggests is a sort of oil that has a tendency to get rough over time when applied over a block of wood.
When there is already stained wood, which simply means that the danish oil could not reach the surface easily.
Easily in terms of that, the oil has to penetrate the stain layer first. After that, it will reach out to the wood surface to become hard, which is the main thing to accomplish.
Now due to stain, let's say if danish oil could not penetrate the oil layer, If the stain is a stubborn one, or if you use the wrong oil, it may pull some of the stains off, so you have to be very careful.
Despite pulling the stain off, the applied danish oil will also slip by since it fails to connect the wood surface.
Therefore, this is very important for you to be extra careful, make sure the stain is suitable for the danish oil, there is no extra stain, and it must be completely dry.
What's different between Danish oil vs Stain?
You've two options to protect your furniture, either apply an oil-based product like danish oil or linseed oil or you can use wood stains that are basically small particles, which come in a variety of colors.
Since both the products almost share the same purpose, therefore, you should be well aware of some visible differences between them so you know when to use which.
In simple terms, the big difference between danish oil and wood stain is that-
If you want to give your furniture a new look by coloring it then the wood stain is the best option than coloring it with paint. Whereas, if you want to make your furniture last longer regardless of the color, assuming that you are taking durability seriously then use the Danish oil. It's more protective for wood.
What are some pros and cons of Danish Oil?
Like each product there must be some pros and cons that a person who is using the first time should be well aware of that, to make a better decision and get the most out of it.
Similarly, I've listed below some of the advantages and disadvantages of using Danish oil, based on my own experience using it on a variety of wood projects.
| Pros | Cons |
| --- | --- |
| Protective oil for water | Needs to be maintained regularly |
| Quicker to dry | Instability |
| Contains no toxins | An exhausting task |
| The safety of food | Suitable for wood that has not been painted |
| Provides a higher degree of sheen | Occasionally, Sudden Ignitions can happen |
| Easily applied | Does not smooth the wood grain |
Instruction on Danish Oil? How to apply
Applying Danish Oil is a very straightforward process. This finish is easy to work with so that it's a good option for beginners to work with.
Using Danish Oil on woodworking projects is how to do it right. Simply follow the steps mentioned below.
There are some things you need to follow to complete the process.
Danish Oil

Microfiber tack cloth

Lint-free cloth or rag

Foam Brush

Disposable gloves

Step.1 Getting the wood surfaces ready.
First of all, you need to make sure the surface you're about to work on is clear, there must not be any dust appearing. Also, it must be completely dried.
Now using sand grit to prepare the surface, the more you smooth the surface the better the end result will be.
The best way to sand is, to begin with, a grit size of 120 then 150, then 180, or you can go up to 220 sizes if you wish.
Step.2 Apply the first coat.
Before you start off applying coats, make things ready first by placing them nearby so you can reach them out easily.
Also, the environment should be best in regards to work, with that said, apply a coat in a well-ventilated area so that the smell can go outside.
Many oils I've worked with, their smell was really bad, in fact, many are dangerous to inhale.
After that you're all ready, now open the oil can and mix it thoroughly. Apply the first coat by using a foam brush or a piece of microfiber cloth.
Don't circulate the oil all over the surface, instead draw horizontal lines. In this way, you will get nice results and also less amount of oil will be used.
Step.3 Repeat the coats after a while
Let the first coat fully dry. It usually takes an hour to become hard to touch. However, in humid areas, the time span of the drying process can go up to 3 to 5 hours. 
I usually apply 3 to 4 coats when working on a wood project. You're allowed to limit to only 3 coats minimum, and 6 coats maximum. At that point, the wood piece may already start looking nice. 
Step.4 Clean everything and wipe it dry
After finishing coats, make sure you clean the surface thoroughly. Use a towel or piece of cloth to dry the entire surface.
You should dry the surface as much as when touching it should feel 100% dry.
What is the Wood stain?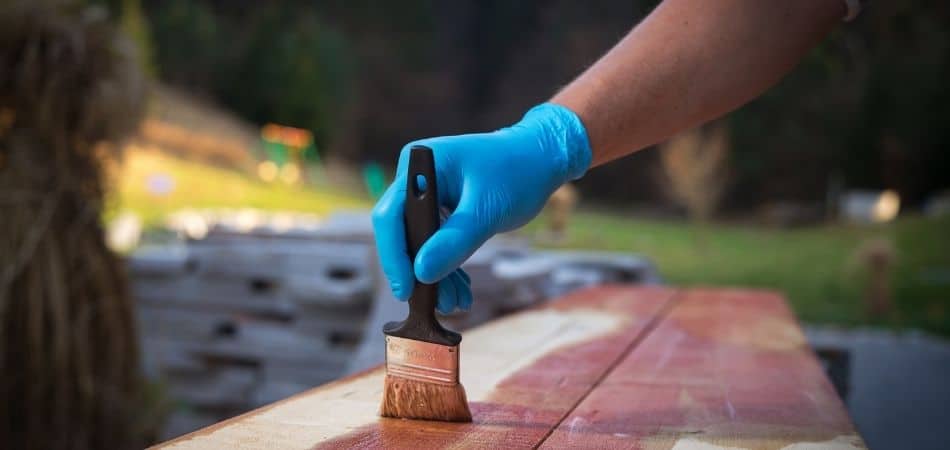 Wood stain is a type of paint used to color wood. There is a range of different colors available in stains these days to choose from.
A wood stain penetrates the upper layer of the wood surface just to give it a different color, it contains pigments that actually do not completely dissolve. 
Opposed to that, its color particles dissolve and become a layer of top that is also protective.
What is Danish oil?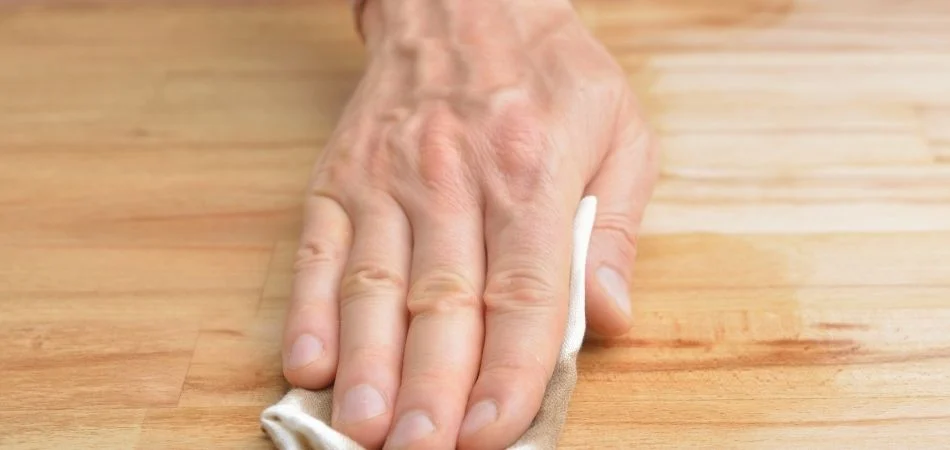 Oils finish like Danish oil, for instance, they are less dense so that they are used to be absorbed by the wood and shaped into a hard layer.
They don't have any color like wood stains, with that said, the danish oil is used to give a piece of wood a dark color, add a protective coat to prevent scratches, dents, and other weather effects.
It can repel water and protect the wood from minor impact damage. 
That is to be concluded, using oil for adding a protective layer is more effective than using a wood stain.
When Should You Apply Danish oil?
Each woodworker prefers the Danish oil for the long-lasting finish for the last coat.
If you want to make your furniture last long while giving it a sheen look that shines well too. There is no better option than danish oil. For some good reasons.
Danish oil adds a protective layer on wood, preventing pieces of furniture from scratches and dents. Unlike wood stain, this product goes deeper into a wood surface.
Due to its property of going deeper than a wooden surface, it also prevents wood from water and fits best to fight against humidity: outdoor furniture really needs to apply this coat.