To make your painting job last longer the primary layer which is basically a layer of a primer plays an important role. 
But there are so many types of primers available, which one should I use for my painting project? Let's find out.
Primers differ in their properties, each has specific uses, pros, and cons and demands a certain surface to better adhere to. Not familiarizing yourself with them will put you at a greater disadvantage.
With that said, regardless of the surface, you're going to put primer on, metal, concrete, drywall, wood, etc. Understanding them better will give you an advantage in the painting process. Since types of surfaces demand certain primers be applied onto and skip priming is not advisable because the results will be unattractive. 
You can find out more about what happens when you skip priming?
In this blog post, I'm going to review the types of primers available today and will also mention which surfaces they are designed to be applied onto. Let's get started.
What are some types of primers? 
But first, here are the types of primers.
Oil-based Primer- An oil-based primer has oil as the main agent and is better adhered to oil-based paints but other paints can be applied onto it, such as latex or water-based paints.
Latex-based Primer- They are basically water-based, use water as the base. They come in handy when preparing surfaces other than wood such as unfinished drywall made of bricks or concrete, cost less, and offer a faster drying time.
Shellac Primer- They are also called stain-blocking primers, beetles are used in their production.  For painting over problematic old varnishes, stains, plastic, oil-based paint, metal, and ceramic tile, these are better suited to use as a stain-blocking primer. 
Oil-based primers
Oil-based primers are suitable for many surfaces no matter if the surface is finished with stain, paint, varnish, or a block of bare naked wood. 
These primers have a good adhesive quality, providing an excellent base over porous surfaces since they fill in wood-pores better than any other primer, their dense nature also has a lot to contribute there.
They are also effective at blocking moisture and other hazards. They are good blockers to defend stains from sticking, for instance, furniture tends to collect scum, and that includes nicotine, dust, smoke stains, etc. 
The best thing about oil-based primers and paints is that even if they get dirt on them, cleaning them off is not something difficult and time-consuming. A wet rag is all you need to get your cleaning job done.
Moreover, woods that bleed out such as cedar or redwood can only be primed thoroughly with a primer like this, or stain-blocking primers also do well, water-based primers will not stick to them, if you use them anyway, they will make the finish coat get peeled-off very soon.
Oil-based primers are the best of both worlds, either your project is indoor or outdoor. Since they are designed to withstand temperature effects such as direct sunlight or humidity, as well as indoors they shield a coat that can prevent your kitchen cabinets from getting damaged from smoke. 
Though they emit high VOC compared to latex primers, therefore, people prefer latex for indoor priming projects. Keep in mind that, when it comes to getting them completely off from a surface for some reason, these types of primers take a lot of cleaning effort compared to water-based ones.
Compatible surfaces
Although oil-based primers provide benefits to a variety of surfaces, these are primarily used as a base coat for finishing agents on wood. Metallic surfaces are also an excellent choice because these primers resist the formation of rust, which is impossible for latex-based primers.

Unfinished or bare wood can benefit from oil-based primers because they seal the porous surface of woods, allowing the paint to cover better. These stop the tannins in woods, like cedar or redwood, from penetrating the surface of the paint.
Advantages of oil-based primers
Good water-resistant ability.

Highly-protective

Latex-based paints are compatible.

Good Blocking stainers.

Used for indoor or outdoor projects.

Ideal for bare wood to stop bad tannin's bleeding effects.

Are Easy to clean off.
Disadvantages of oil-based primers
Contain High VOC (Volatile organic compounds)

Hard to remove off of a surface.

Are prone to become brittle when exposed to sunlight for a long period.

Have a longer drying time of about 6-8hours.
Latex-based Primer
Latex-based primers should be your best bet if you want to prime on drywalls made of bricks, concrete, or any smooth surface like plastic as well. These are cost-effective than others yet get the job done just fine. 
However, they are not compatible with oil-based paints so you should be using only water-based paints over these primers. This is the most general guideline that must be followed.
With a fast-drying time, you are ensured to get your project painted quickly, also, applying these primers on a surface is easier than oil-based primers. The reason for this is, of course, is their lower density.
And their coats are easy to be cleaned off, unlike oil-based primers, they don't require any harsh cleaning agent. This ability could be an advantage or disadvantage at the same time depending on the situation you're into.
Lastly, latex-based primers are problematic if you want to clean any dust or stain from the surface. As they absorb water, they are more likely to become wet, making them more likely to come off when you only clean the dust off.
Water-soluble primers are easy to clean. Low-VOC primers reduce the number of harmful chemicals in an environment by eliminating oil-based or shellac primers.
Compatible surfaces 
The ideal surfaces to use latex primers on are as follows:
In general, the latex-based primers are used mostly on priming walls made of bricks, concrete (not wooden walls) that are going to have chalk-paint or water-based paint. But you can use these primers on plywoods, woods can also be primed in conjunction with galvanized metals and bricks.
Advantages of latex-based primers
Cost-effective.

Have a quicker drying time.

Are easy to apply. 

Ideal for priming drywalls, masonry, as well on hardwoods.

Contain low or No VOC, which is good for health.

Cleaning them off from the surface is easy.

Less susceptible to getting cracks when exposed to direct sunlight.
Disadvantages of latex-based primers
Over bare woods, they raise the grains due to water.

Lack in providing a protective coat to block stains.

Create a weak bond with oil-based paints.
Shellac Primer
After latex or water-based and oil-based. The next popular type of primer is shellac primers. Fast-drying these primers, often named bonding primers. They are used on an array of surfaces, including wood, metal, and even on drywalls.
Similar to oil-based primers, their applied coats are tough and offer a stain-blocking capability, woods that leak tannins such as pinewood or redwood, are well covered with these primers. Having them over a surface prevents many stains such as smoke, nicotine, and water damage.
Shellac primers are supportive for both types of paints, water or oil can be applied. However, oil-based paints are ideal and create a stronger bond than other paints.
Although shellac primers work in a similar way for both interior or exterior applications. With that said, indoors on drywall are not as durable as latex primers, and for exterior applications they just do fine, increasing the finish coat strength in harsh environments.
Considering the fact these types of primers are not durable and emit a high amount of VOC. Keeping their use to only exterior applications is a good decision.
Compatible surfaces 
Shellac primers are versatile to be used on almost all surfaces in conjunction with any paint you want that will work just fine.
Generally, the best surfaces for these primers are bare woods, to provide a smooth end-finish by blocking the tannins and any bleeding of a wood. The fast-drying, highly adhesive products can also be used on metal, plaster, and plastic. In painting ceramics, these primers really make a good choice for artists.
Advantages of shellac primers
Fast-drying

Compatible with oil and water-based paints.

Stain blocking capabilities.

Suitable for wooden surfaces, provide a protective coat to stop tannins.

Effective for in or outdoor applications.
Disadvantages of shellac primers
Extremely high VOC primers.

Not durable as others.

Costly.

Prone to get cracked.
where to use which primer
I've mentioned below some surfaces where we need to apply primers beforehand painting.
| | |
| --- | --- |
| Surface  | Primer to use |
| Bare wood | To make a porous surface sealable, use an oil-based or latex primer. |
| Drywall | For smooth, even surfaces, prime drywall with a latex primer rather than with an oil-based primer. |
| Stain-prone surfaces | A stain-blocking shellac primer is recommended for stained wood, bare wood with high tannin content that is prone to bleeding, walls that have smoke or water stains, and cabinets that are coated with grease. |
| Painted wood | Priming over painted wood showing chalking is usually a good idea with an oil-based primer. or chipping; as it dries, it will become denser, smoother, and less likely to have imperfections. |
| Metal | To prevent the formation of rust on metals such as aluminum, use an oil-based primer, which is resistant to rust formation. |
| Glossy surfaces | Especially when the surface is glossy like glass, plastic, or tile, bonding primer is a good choice to apply over them. |
Best primers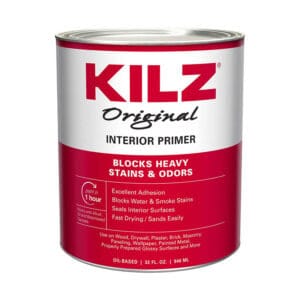 Kitchen cabinets, bathroom vanities, or frequently used items like bar stools are especially suitable for the coat of this primer.
 This quart-sized container covers between 300 and 400 sq. ft area. It can be top-coated with latex or oil-based finishes after it gets fuller sired to the touch.
With its oil-based formula and tintable appearance, It primer for Kilz Original prevents water-based stains and odors like smoke.
Additionally, KILZ Original is also appropriate to be applied on drywall, plaster, masonry, brick, metal, and glossy surfaces like tile. 
A clean metal primer from Rust-Oleum is available in half-pint containers to cover a maximum area of 55 square feet, is re-coatable in two hours, and must be painted over with an oil-based paint. 
Use this interior/exterior oil-based primer to prevent rust from forming on bare, painted, or lightly rusted metal. 
Despite its smooth and even formula, this primer adheres well to clean metal surfaces (and to less-than-perfect surfaces too).
Water-based formula repels solvent-based stains (like grease) and resists mildew and peeling and lasts up to 100 square feet (one wall 10 feet wide and 10 feet tall). 
Faster drying of this primer allows a second coat to be applied in an hour with latex-based or oil-based topcoats.
Applied to walls, furniture, fences, and other interiors/exterior surfaces, this versatile, tintable latex primer adheres as strongly to drywall as it does to wood, concrete, masonry, metal, and glossy surfaces like tile. 
 It comes in one-gallon cans that can cover 300 square feet, dries in one hour, and provides a good base for either latex- or oil-based topcoats.
The next time you're considering painting a tile backsplash, a lacquer chair, or your outdated gutters, this tintable latex primer can handle a variety of surfaces with its ability to adhere to glass, plastic, tile, Formica, vinyl, glazed brick, metal, and more.