It is essential that you know all of the different terms used in the table saw industry. Among them, the term rip capacity is the most important since it indicates how long plywood sheets can be cut into pieces.
A table saw's rip capacity varies between variants, which affects the way it feeds a sheet.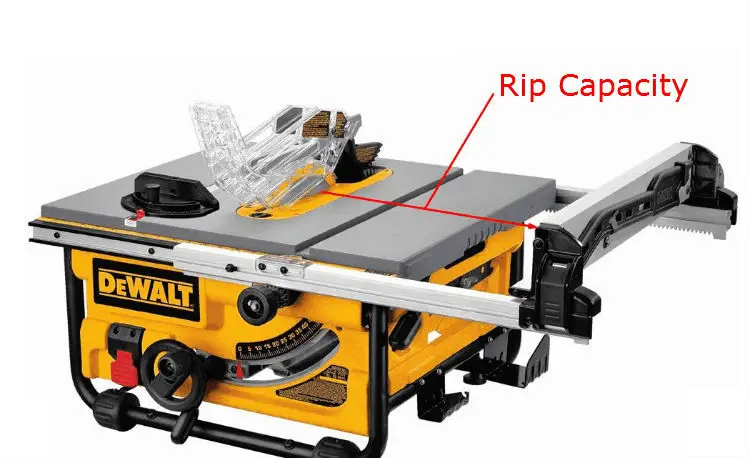 In general, rip capacity is determined by the distance between the fence and the blade. Table saw fences can hold a particular amount of length of the sheet following their rip capacity. More distance means a larger sheet can be held.
The size of the table saw is an important factor as well. A saw's blade size indicates how deep it can cut. The blade of a 10″ table saw can typically cut wood about 3″ thick and the blade of a 12″ saw can cut wood about 4″. 
It's good for you to know what is a good ripping capacity for your task. This is what we'll talk about in this blog post.
What is a good ripping capacity for my table saw?
In general, there's no specific recommendation for how much rip capacity is best for an individual.
That isn't all about cutting pieces; if you think the short rip capacity of the table can cut small pieces, that isn't actually true since any table saw is able to cut as long wood pieces as you require with a little modification.
With that said, cutting capacity on a table saw basically guides how long a piece of a sheet can fence hold: to make precise cuts. 
To decide whether a rip capacity is a good fit for your task, let's look at some of the more common rip capacities. 
If you are a DIY enthusiast, having a table with a wide ripping capacity may not be necessary if you use your ripper only for small woodworking projects. If that's the case, anything between 18, 20, or 22 inches should work for you.
In contrast, as a framing contractor or a professional woodworker, you'll probably want a table saw with a maximum rip capacity of about 24 or 28 inches to cut through the larger size of plywood sheets in a precise manner.
To illustrate, plywood measures 4 feet wide by 8 feet long, so to rip it in half to make two separate pieces of 2 by 8 feet, requires a minimum of a 24-inch rip capacity of a table saw to rip it off without modification.
Overview: The main factor to consider is the price. You will spend more money on a table saw that has a larger rip capacity than one with a small capacity.
In other words, spending money on something you don't really need is a bad idea. In the same way, in an effort to save money you should avoid buying a saw that cannot produce results for you.
A guide to buying a table saw.
Table saws with a higher rip capacity are generally more suitable for users who frequently cut wood pieces of varying shapes and sizes. 
A bigger saw addition to a larger rip capacity will provide you more power because they're made for cutting through bigger sheets. In this case, a larger saw would make more sense, however, small ones do not have that much power, so no matter how many fence systems you buy to cut larger wood, the power would not be sufficient: making things mishaps.
A table saw with a large rip capacity is your best option if you are planning to do router table work on its surface. Add a router-table add-on and you'll get more workspace.
How to find my table saw's rip capacity?
There are two ways to determine the capacity of your table saw.
The First way- 
You can use a measurement tap, preferably in inches, and measure the distance between the fence and the blade. Make sure to slide the fence all the way to its maximum limit. The measurement you will get will be so-called capacity.
The second way-
You can search online for the specs of your table saw. Most likely on online stores like Walmart, Amazon, home depot, you can find a similar product, and navigating the page to the specs section you can see the rip capacity.
Table saw rip capacity: what does it mean? (With example)
To start with, rip means a board is cut along its grain on a table saw. The distance between the blade edge and the fence regulates movement. The free movement of a fence (right side) from the table saw blade is the capacity of how large of a piece of wood you can place there to cut.
In simple terms, rip capacity describes how wide the gap is between the fence and the edge of the blade. 
Understanding it with an example.
If you have a table saw which has a maximum rip capacity of 24" inches.
Suppose you need to cut a sheet 48″ by 96″ accurately using the fences.
In order to do so, you must first cut the piece in half, it'll be 24" by 96" each. Following that, the pieces can now be placed on the table saw (between the fence and blade) since a 24″ table saw will only hold 24″ pieces under the rip capacity.
Can a sheet only be cut as large as the table saw's rip capacity?
No. not necessarily the rip capacity cannot determine the length of the piece a table saw cut. It's just a measurement of the capability of the fence to hold the piece to perform better cuts.
With the fence removed, the rip capacity is ultimately much higher, but without having a straight line, it will be harder to maintain.
A good example of that-
 If your table saw only has a ripping capacity of 20″ inches and you need to rip a piece of plywood 48 x 96 inches in half (right at 24″), you can simply remove the fence of the table saw to accomplish this. Taking a straight cut would be impossible since the piece will not be firmly fastened.
What does Left Rip Capacity mean on a table saw?
You probably have a question, why is there a concept of left capacity? How important is it?
The answer is yes, left rip capacity should also be taken into consideration. As a rule of thumb, it should be set at maximum as well. Because it contributes to ripping capacity overall.
Based on the amount of space on the left, the rip capacity is calculated.
 With a table saw that has 30" of rip capacity on the right and 12" of rip capacity on the left, you can move the fence an additional 10" to the right, giving you a total rip capacity of 40" on the right and 2" on the left.
Is 20 rip capacity good?
Small table saws, mostly portable ones, have a maximum 20 to 22 inches wide rip capacity. Which is good for cutting tasks like crafting some small projects made of sheets, for example, a table, a desk, or small cabinets.
With a table saw of 20-inch capacity you can precisely cut 20 inches by 48 sheets.
Is 28" or 30" Rip Capacity good?
The table saws that are commonly found in carpenter's workshops have this rip capacity, they are expensive yet can cut through large sheets of plywood accurately. Having said that, most experienced contractors find themselves in need of such a large saw, this is good for them.
However, with larger table saws, the need for a 30″ capacity is rarely met, because it's very rare to work with this large piece of sheets unless you're building something for a building or rooftops. 
If one is ripping off large pieces, one should always keep in mind that when ripping 30″ off aboard, an 8″ rip off the other side of the board can serve the same purpose, giving you the 40″ section.
Is 50" Rip Capacity good?
Hardly you will find a table saw with this wider ripping capacity, generally they are modified ones. There are methods to increase the ripping capacity so one can extend it as long as required.
However, 50 inches rip capacity is actually too much for many woodworking tasks. Unless one has to cut boards directly from factories, which come in larger sizes. 
Having a 50″ rip capacity provides you with the freedom to make a square cut, essentially cutting a sheet of plywood in half in one motion. So, they are useful when it comes to making square cuts of large sheets.
Can a table saw's ripping capacity be increased?
With a little modification, you can increase your table saw's ripping capacity. It might take you some time and effort to do so, but still, it's a better option than spending money on buying a new table saw.
It is easy to expand a rip capacity by adding up another table, which you can construct yourself if you devote the time and money to do so. There are two types of systems that the method can work with, both rack and pinion system and sliding fence system. 
There is a second way of extending a table saw; you can get a ready-made extension from Amazon; just make sure it's the size and that it can be used with your table saw.
In addition, some table saws come with adjustable fence systems, and all you will have to do is make a hole in the fence for additional screws to allow the fence to slide a little further. 
There are many different ways to do this and a few different tutorials that show how other people have done this for their own table saw, which makes me think I should probably write an article on the subject, you can read here how to extend the rip capacity of table saw.